Nostalgic for the Cassette Tape, Old Recordable Media Companies Rebrand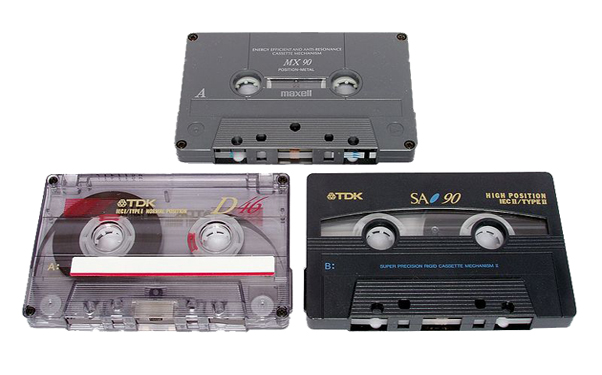 Posted by Brandon Kim on
Companies like TDK, Maxell, and 3M were once household names for the cassette tapes they made, but have struggled to remain relevant since the advent of digital media. The announcement by TDK to get back to basics with old school gear like turntables and boomboxes is not too surprising given rising consumer nostalgia, but it's hard to say if they're ahead of the curve or just grasping for magnetically coated plastic strips.
TDK's global brand director sums up the impersonal nature of digital media, "People got used to digital media and the brand became less important… the perception from a consumer standpoint became 'a DVD is a DVD,' and a CD is a CD," he told Variety.
Anyone who was serious about their portable music before say, 1998, will recall how different it was then. A tape wasn't just a tape. Quality varied widely between brands and types. There were 46, 60, 90, and the epic 120 minute varieties. There were the low quality Type I's that old people used for dictation. Type II's were the workhorses of recorded music, and could grind away in tape decks for years before wearing out. Then there was the audiophile's Type IV Metal, king of the cassette. You didn't even have to look at them, you could tell which ones were Metal by feel of their weight in the dark — a handy characteristic for finding your best mix while driving, or inebriated, (or both).
Yes, those not-so-little-anymore wonders of recordable media were once omnipresent in homes, offices, and cars, strewn about back seats from coast to coast. And long after most people stopped buying new music on cassette, favoring CD's, they were still indispensable in their role as the all-important mix tape. Remember, you couldn't record on CD's for about a decade after they were introduced to the general public as a viable medium to buy music on, and then it was still years before the CD-R Writer/Reader was practical — the first ones were pieces of furniture and cost like $10,000.
Making your first mixed tape was a right of passage, even an art form for some. I used to have this sweet set up in my parent's basement with a TV, VCR, turntable, CD player, and microphone with a nice echo, all hooked up to a dual tape deck. There was no better way to put everything cool, everything I loved into one thing, than to make a mixed tape with bits from movies and stupid commentary between carefully selected tracks. It was a real, physical experience with equipment and nobs and buttons, then shared with others. No drag and drop and done laziness. If I ever made one for you, I truly loved you. I'd trade the flash memory card (brand unknown) holding 100 albums in my Blackberry for one of those great mix tapes in a heartbeat.
Clearly, TDK has market info showing there are other consumers like me out there. "We wanted to make it the things that were really lost as digital music progressed," he added on their planned new product line. "A social experience and an interactive experience; a tape, analog, vinyl experience."
Though they were a close second, TDK tapes weren't my favorite, they were Denon. Oh, I had this beautiful, all white, Type IV Metal Denon cassette that held such magic. What was your favorite mix tape?
PS. Lose your mind on this TDK ad from the 80's.