Nine All-Star Movie Casts We Never Thought We'd See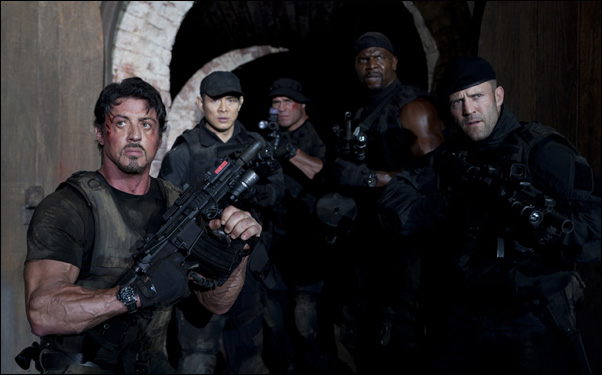 Posted by Stephen Saito on
With this week's release of "The Expendables," a dream of action fans has been realized, even if two of the film's biggest names (Bruce Willis and Arnold Schwarzenegger) appear for less time than it'll take for star/director Sylvester Stallone to unload a Beretta on a cadre of Brazilian baddies. Yet while it is the first meeting of two decades' worth of action elite on screen, it is certainly not the only time when a film builds around nostalgia value as its foundation without being a sequel.
In fact, nearly every genre has called in its all-stars for one big blowout, despite the fact that in the era since über-producers like Stanley Kramer and Irwin Allen routinely collected "more stars than there are in heaven" (to borrow MGM's phrase), such event pictures based on casts rather than spectacle have become rarer, thanks to bigger star salaries and lesser dependence on them in the era of special effects. Still, here are nine films of recent memory that have bucked the trend by getting creative behind the scenes, though it hasn't always been easy getting the stars aligned:
Martial Arts All-Star Cast We Never Thought We'd See: "The Forbidden Kingdom"
Sometimes the film gods don't get it entirely right, which is the only explanation why China was begrudged the first onscreen pairing of Jet Li and Jackie Chan in favor of this 2008 American family flick. (Similar logic — and Western dollars — has led to Li getting short thrift in his first fight with Michelle Yeoh in "The Mummy: Tomb of the Dragon Emperor" and Chan's first face-off with Donnie Yen feeling strangely inadequate; in an odd coincidence, "Smallville" creators Alfred Gough and Miles Millar were responsible for the screenplays for both showdowns, but I digress.)
What had been a dream for martial arts fans was extended to the central notion of John Fusco's screenplay – a kung fu obsessed teen gets to travel back in time to be educated by two legendary masters. Li insisted that it was Fusco's attention to detail in including Chinese folklore like the Monkey King that grabbed his attention and after searching for a project together for 10 years, Chan agreed to do the film with him (despite thinking the script was "nonsense"), bringing along kung fu experts Peter Pau to do the cinematography and Yuen Woo-Ping to choreograph the action sequences. (Another milestone: Woo-Ping and Chan hadn't worked together since "Drunken Master" 30 years earlier.)
Even though "Stuart Little" director Rob Minkoff was in director's chair, there apparently wasn't much work for him to do while Li and Chan were on set since the fight scenes were typically finished in an unusually low three to five takes. (Making it easier still, Chan offered Fusco a bottle of his own brand of Shiraz for every line of his Fusco cut from the film, even though it was Li's character that was a silent monk.) The film was a modest hit, both here and abroad, but much like NBA players who extend their careers by playing in the Euro League, "The Forbidden Kingdom" seemed more like a footnote to two storied careers rather than a culmination they had spent time working towards. But they would reunite once more for country in 2009 for "The Founding of the Republic," the centerpiece of the Chinese Film Group's celebration of the 60th anniversary of the Revolution.
Old-Timey All-Star Cast We Never Thought We'd See: "The Whales of August"
There were plenty of films during the '80s to kick up some nostalgia with the casting of screen stars of eras past in their first films together. "On Golden Pond" would usher in the decade with the sole pairing of Katherine Hepburn and Henry Fonda, 1985's "Cocoon" brought together Don Ameche, Hume Cronyn, Wilford Brimley, Jessica Tandy and Gwen Verdon, while Kirk Douglas and Burt Lancaster reunited as aging hoods in the little-remembered comedy "Tough Guys." Bette Davis had gone down such a road once before two decades earlier in "What Ever Happened to Baby Jane?," a battle of the drama queens with Joan Crawford that was financially successful, though fraught with disaster, and apparently thought nothing of it to raise some hell on the set of "The Whales of August," a genteel drama that was "a cinema event," as the New York Times' Vincent Canby termed it, because Davis' sister in the film would be played by silent era star Lillian Gish. (Add in vet comedienne Ann Sothern and Vincent Price and as the Times further calculated, the quartet of actors had 317 years of screen experience between them.)
Age hadn't softened Davis, especially since for the first two weeks of production the cottage she stayed in didn't have heat, leading director Lindsay Anderson to lament, "She's difficult because she's Bette Davis, not because she's a star. She has an initial hostility to life and people that she has had all her life." This served the picture well since its thimble of a plot about sibling rivalry, but the film didn't catch on with audiences or Academy voters who were expected to give the film a boost at awards time and only nominated Sothern for best supporting actress.
Comedy All-Star Cast We Never Thought We'd See: "Harlem Nights"
"Harlem Nights" is no one's idea of a success, so much so that after the 1930s-set gangster comedy picked up two Razzie nominations for worst screenplay (which it won) and worst director (which it didn't), Eddie Murphy hasn't attempting helming a film since. Yet it was a grand success in one respect – he was able to get three generations of the funniest comedians ever on one set by casting Richard Pryor and Redd Foxx alongside him. (Not surprisingly, according to IMDB, they dropped the f-bomb 133 times between them and their supporting cast.)
As for the one legendary African-American comedian who didn't make it onto the Paramount lot while filming, there is an amusing behind the scenes story that when Bill Cosby, who was making "Ghost Dad" at the time, led the "Ghost Dad" cast and crew to victory against the "Harlem Nights" squad at softball, Murphy told the rival team, "We'll beat you where it counts — at the box office." They did, taking in $60 million vs. "Ghost Dad"'s gross of $25 million, though neither set the world ablaze. A generation later, Murphy had a chance at being the elder statesman in the crime comedy "Tower Heist," which director Brett Ratner floated as an African-American "Ocean's 11" starring Chris Tucker, Chris Rock, Jamie Foxx and Dave Chappelle. It never came to be and now appears to be in the hands of Ben Stiller. Ahhh, well, we'll always have "Harlem Nights."
Heist Film All-Star Cast We Never Thought We'd See: "The Score"
While "Ocean's 11," in both its incarnations, brought together eclectic casts that were immensely popular for their era, director Frank Oz might've pulled off something more historic in assembling just three actors arguably thought to be the best of their respective generations in Marlon Brando, Robert De Niro and Edward Norton for "The Score." (Norton once said on "Charlie Rose" that he would've done the 2001 heist film just to see his name on the poster.)
For Brando, "The Score" was a late career payday while it was another in a long line of films to burnish the living legend status of De Niro, who has increasingly done his damnedest to live it down, and Norton was there to take it all in. And that's how "The Score" mostly plays out as a film, with Brando hamming it up seemingly unaware of his surroundings (a set report from Time described his "initial performance…something like Barbara Bush doing her best Truman Capote impression"), De Niro grimly playing a veteran middle man trying to get through one last job so he can retire and Norton playing the excitable new kid on the block trying to prove his chops.
But unlike other films on this list, it really was hard to imagine these three on screen together because of the egos involved, primarily Brando, who demanded that Oz not be on set when he was, leaving De Niro to pass along directions from Oz by way of an assistant director. The tension was exacerbated by the fact that there had never been a finished script for the film, which allowed for one of Norton's earliest attempts of polishing a film in which he was only expecting to be acting. "The Score" managed to make back its budget at the box office and serve as Brando's finale film performance, though it surely won't be the film that any of the actors involved will go down in the record books for.
Horror All-Star Cast We Never Thought We'd See: "Freddy Vs. Jason"
Ever since the knife fingers of Freddy Krueger pulled Jason's hockey mask into hell at the end of "Jason Goes to Hell" in 1993, fans who grew up with the horror icons during the '80s had prayed for the day when they would meet onscreen for more than a split-second, something that was made possible when New Line bought the rights to the "Friday the 13th" series in 1992. Fitting in nicely with a portfolio built on low-budget splatter flicks, New Line's hopes for a meeting of the mass murderers was tangible enough the studio touted it on a promotional show reel in 1995. Alas, nothing would come from the fact that Freddy and Jason were under the same roof, except for Wes Craven's meta "New Nightmare" in 1994 and the Jason-in-space slasher "Jason X" in 2001 until after eight drafts and seven years had passed.
Screenwriters Damian Shannon and Mark Swift pitched a version where Freddy, trapped in Hell, reactivates Jason to terrorize the teens of Springwood, Ohio, before wanting in on the action himself. (According to Entertainment Weekly, alternate springboards for the action included Jason going on trial, Freddy getting revived via a cult of Krueger worshippers and Freddy being the one to kill Jason initially.) Ronny Yu, who already brought one '80s horror staple back from dead with "Bride of Chucky," handled the helming duties and "Freddy Vs. Jason" went on to gross $82 million, though hopes for potential sequels were likely dashed in favor of reboots of both characters, a shame considering the rights holders of "Halloween"'s Michael Myers made no secret of their desire to be involved in a follow-up.