Colin Farrell Performs "Triage," Criterion's "Crumb" and more new on DVD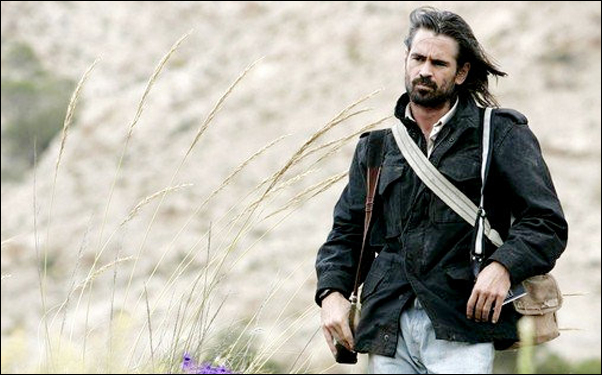 Posted by Stephen Saito on
A look at what's new on DVD today:
"Triage" (2009)
Directed by Danis Tanovic
Released by National Entertainment Media
Although a largely tepid reception at last year's Toronto Film Festival and a downer of a subject matter prevented "No Man's Land" director Danis Tanovic's English-language debut from getting American theatrical distribution, Colin Farrell delivers an award-worthy performance as a photojournalist recovering from the ravages of war and the loss of his friend and colleague in this direct-to-DVD drama. Even with Paz Vega to come home to, Farrell's photographer tries to make sense of the horrors he witnessed as his wife (Vega) and the wife of his dead friend (Kelly Reilly) try to get him to open up.
"Children of Invention" (2009)
Directed by Tze Chun
Released by Indieblitz Releasing
An alum of Sundance 2009, Chun's feature debut centers around a Chinese immgrant single mother's determination to give her children a better life until her desperate involvement in a pyramid scheme leaves them fending for themselves on the streets of Boston. As Chun told Alison Willmore back in March, "I wanted to tell a story about children that wasn't necessarily from a child's point of view." (The rest of the interview is here.)
"Louie Bluie" (1985)/"Crumb" (1995)
Directed By Terry Zwigoff
Released by Criterion Collection
Before creating an icon of his own with "Bad Santa" in 2003, Terry Zwigoff first directed documentaries about them, both of which are getting the Criterion treatment. Zwigoff's 1985 portrait of the multilingual country-blues musician Howard "Louie Bluie" Armstrong and his 1995 look at the life of counterculture artist R. Crumb arrive on both DVD and Blu-ray with audio commentaries, extensive arrays of unused footage and not surprisingly, pretty cool booklets filled with art and essays.
"Date Night" (2010)
Directed by Shawn Levy
Released by Fox Home Entertainment
Tina Fey and Steve Carell gamely take on an evening of navigating snooty Manhattan restaurants, strip joints and Mark Wahlberg's abs as a suburban couple mistaken by corrupt cops (Common and Jimmi Simpson) for a pair of low-level hoods (James Franco and Mila Kunis) who have an important USB drive in their possession. "Night at the Museum"'s Shawn Levy once again overstuffs his cast to the point Mark Ruffalo and Kristen Wiig register about a minute of screen time each in this ticking-clock comedy.
"Death at a Funeral" (2010)
Directed by Neil LaBute
Released by Sony Pictures Home Entertainment
LaBute didn't even let the corpse of Frank Oz's 2007 British funeral farce get cold before reinterpreting it with a largely African-American cast that includes Chris Rock, Martin Lawrence, Danny Glover, and Zoe Saldana. Peter Dinklage is the only holdover from the original, once again serving as the mysterious guest with the potential to upset the memorial service of a family's patriarch. Poop jokes and valium-induced tripping are just part of the wake, this despite co-star Tracy Morgan's insistence that funerals aren't supposed to be funny.
"The Good Heart" (2009)
Directed by Dagur Kári
Released by Magnolia Pictures
"Nói albínói" writer/director Kári brings a droll, Icelandic sense of humor to his first American-produced film, which reunites "L.I.E." co-stars Brian Cox and Paul Dano as an unsentimental bartender and homeless teen with perhaps too much compassion, respectively, who develop an unusual alliance after both are laid up in a hospital. (My review from its premiere at SXSW earlier this year is here.)
"Helen" (2009)
Directed by Sandra Nettelbeck
Released by E1 Entertainment
Another international helmer making her English-language debut is German director Nettelbeck, whose "Mostly Martha" was remade into the Catherine Zeta Jones romance "No Reservations." Here, she delves into the far more serious territory of a music theory professor (Ashley Judd) whose life falls apart when she begins to show signs of mental illness. Goran Visnjic co-stars as her husband in this Sundance 2009 drama.
"The Joneses" (2009)
Directed by Derrick Borte
Released by Fox Home Entertainment
David Duchovny and Demi Moore star as the heads of a seemingly perfect all-American family in this satire from first-time writer/director Borte. As I wrote back when the film premiered at last year's Toronto Film Fest, the less you know going in, the likelier you are to enjoy how the Joneses' status as the envy of their new neighborhood is subverted into a sly slap at consumerism.
"La Mission" (2009)
Directed by Peter Bratt
Released by Screen Media Films
This one's a family affair from writer/director Peter Bratt, who casts younger brother Benjamin as a father who has a hard time dealing with his son's admission that he's gay, living in the hard-scrabble and strongly traditional San Francisco Mission District. Believe it or not, the film became one of the quieter indie hits of the spring, taking in just over $1 million from its little-publicized tour of the country.
"Multiple Sarcasms" (2010)
Directed by Brooks Branch
Released by Image Entertainment
Timothy Hutton can't separate his life from his art when he drops out of his profession as an architect to write a play about his dissatisfaction with how his life turned out, in spite of being the picture of success to those around him. Mira Sorvino, Stockard Channing and Dana Delany are among the women in his life who try to free him from his rut.
"My Name is Khan" (2010)
Directed by Karan Johar
Released by Fox Home Entertainment
Bollywood stars Shahrukh Khan and Kajol cross continents and other seemingly insurmountable odds to be together in this romance about a man suffering from Asperger's Syndrome who follows his brother from India to San Francisco and meets the love of his life, but must deal with cultural misperceptions and personal tragedy after 9/11.
"The Thorn in the Heart" (2009)
Directed by Michel Gondry
Released by Oscilloscope Laboratories
In keeping with his penchant for surprises, Michel Gondry may have pulled off one of his more unforeseen left turns with this intimate documentary about his Aunt Suzette, a retired schoolteacher who has trouble communicating with her own son Jean-Yves. But don't worry, Gondry still finds a way to work in some of his trademark visual trickery into this warm biography. (Aaron Hillis spoke to Gondry about the film back in March.)
"Under the Mountain" (2009)
Directed by Jonathan King
Released by Lionsgate
"Black Sheep" director Jonathan King follows up his 2006 horror comedy with, of all things, a homage to '80s children's fantasy adventures in an adaptation of Maurice Gee's novel about a pair of twins with supernatural powers they are forced to call upon to defend themselves from the aliens that live underneath Auckland's dormant volcanoes. "Escape to Witch Mountain" comparisons are inevitable with Sam Neill doing his best grizzled Eddie Albert impersonation.
"Welcome" (2009)
Directed by Philippe Lioret
Released by Film Movement
Nominated for multiple César Awards in its native France, "Welcome" stars Vincent Lindon as a middle-aged swimming instructor who helps train a 17-year-old Kurdish refugee (Firat Ayverdi) to swim across the English Channel after the immigrant has issues with the local authorities who prevent him from reuniting with his girlfriend in London.
[Additional photos: "The Good Heart," Magnolia Pictures, 2010; "My Name is Khan," Fox Searchlight, 2010]