Universal Music Group Pulls Videos from MTV, Goes With Vevo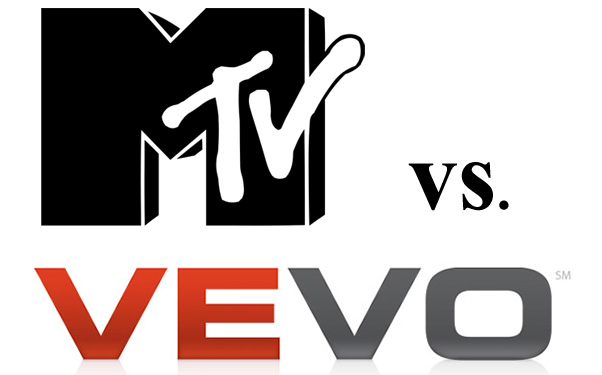 Posted by Brandon Kim on
Someone needs to perform an Inception on MTV, it's been too long since they were the destination for music videos. The channel has been lost in a limbo, a reality show hell with no musical kick, no Edith Piaf to pull them back out and remind them what it was all about in the first place. Now, Universal Music Group has pulled their videos from them in favor of Vevo.
The news came just after newcomer Vevo scored big with the live webcast of an Arcade Fire show from Madison Square Garden, the one directed by Terry Gilliam late last week. The whole thing is a blow to MTV's online content especially since UMG seems to represent most of the mega-acts that are omnipresent on the site — Lady Gaga, Justin Bieber, Taylor Swift, Eminem, Rihanna, Kanye, and the rest.
Wait, losing those artists is a bad thing, right? Not so fast. Universal Music Group explains in a telling statement about maximizing revenue:
"MTVN has been unwilling to negotiate a fair syndication deal with Vevo to carry our artists' videos and consequently our videos will not be shown on their online properties. We believe that using Vevo as our online music video syndication platform is the best way to maximize revenue for our artists, our songwriters and ourselves, while bringing our videos to the widest possible audience. In less than eight months since its launch, Vevo has already become the Web's #1 rated video network with over 49 million unique visitors monthly, dramatically eclipsing those on MTV's online properties, while attracting scores of major advertisers and tens of millions in advertising dollars."
That thing reads like a break-up letter between an online property and a music video syndication platform, written by a Terminator.
MTV responded in a statement [to Billboard] saying:
"We are disappointed by this move and sincerely hope that UMG will work with us toward a fair resolution and allow their artists to once again connect with the millions of music fans who visit MTV.com, VH1.com and CMT.com every month."
Maybe I'm old fashioned but I like my streaming media neatly archived all in one place, by artist. MTV.com was a good spot for that and served well whenever I wanted to go on a TV On The Radio video binge — who by the way, are on Interscope which is part of the colossus known as Universal Music Group. Only their video for "Staring at the Sun" from their Touch and Go release remains now. Yes, of course I can find the rest of their videos on YouTube after sorting though a trillion "lol i maid this video hope u liek lol" versions, but no human being should be subjected to such a task (okay maybe an intern).
MTV will never be the channel it once was, but if MTV.com can't even serve as a library of music videos, good and bad, than something is wrong with the world. Chances are the issue will be resolved with a fair and equitable deal arranged in triplicate for all parties. I bet the artists want their art on as many platforms as possible, the better to see them. Until it's resolved, you can watch Terry Gilliam and Arcade Fire on Vevo: