Motel Hell: The Best Reason to be Vegetarian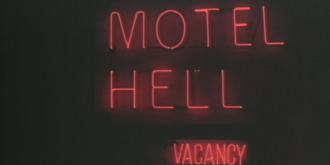 Posted by Melissa Locker on
Your mom always said, "Eat Your Vegetables!", but you didn't listen. You watched "Super Size Me" and Morgan Spurlock's weight gain and health woes didn't make you opt for salad instead of fries. You read "Fast Food Nation" and Michael Pollan, but you still ate bacon double cheeseburgers. What will finally make you reconsider your carnivorous lifestyle? A 1980s horror film called "Motel Hell".
Farmer Vincent's specialty meats are the pride of the community. His motel, however, is not. It is mysteriously always empty. It seems his guests have a nasty habit of stumbling upon the secret garden where Vincent and his sister Ida cure their famous meats. No one can know about the secret ingredient. Things start to unravel when Vincent takes a shine to a woman stranded at the motel, but all chainsaw bloody hell breaks loose when Sheriff Bruce figures out what is going on.
With a cast ranging from Rory Calhoun to Nancy Parsons to an excellent cameo by John Ratzenberger (that's Cliff from "Cheers"), as far as campy horror-comedies movies, you can't go too wrong with "Motel Hell" unless, of course, you wander into one of the booby traps.
Motel Hell plays on IFC at 10 p.m.