Matthew Dear's "Black City," Reviewed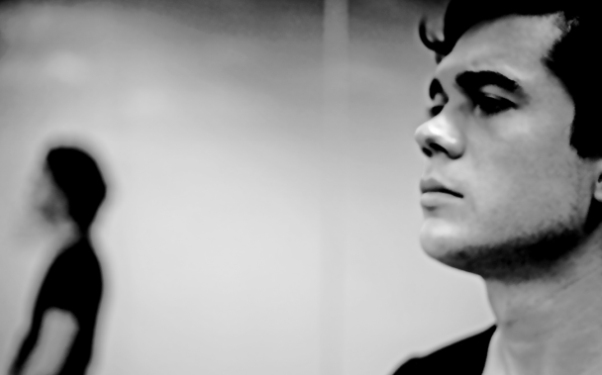 Posted by Brandon Kim on
Artist: Matthew Dear
Album: "Black City"
Where: New York
Label: Ghostly
Release: Aug 17th
Matthew Dear populates "Black City" with his darkest intentions. The sultry record is his 3rd as Matthew Dear but the Ghostly International and Spectral Sound co-founder also releases music as Audion, False, and Jabberjaw. I have a tendency to pass up works from the electronic bin, and though not every track on this album moves me I'm glad I didn't pass it by. Furthermore, if this the kind of architecture electronic music is embracing, I'll be admiring more of it again.
I'd been thinking about David Bowie lately and along came Matthew Dear, who — when not sounding like Bryan Ferry — sounds a lot like Bowie. Maybe a bit too much, but it's hard to fault someone for biting Bowie's style, especially when they're so clearly working it in the context of their own.
The twitchy groove of "I Can't Feel" grabbed my attention with it's wiggly rhythms and freakish jangle. Dear alternately channels Bowie and a slow motion, Tubeway Army era Gary Numan. Speaking of him, the track "Monkey" plays like a b-side that got left of of Numan's 1980 effort, "Telekon."
Winner of the best song title I've heard all month, "You Put A Smell On Me" pounds along with a lewd, dirty 90's beat and a whimsical almost Prince-like come hither attitude. I'd be uncomfortable if I heard it come on in a bar. But then Dear gets awesomely weird, and really goes for it buck-wild fetish time, repeating "Little red night gown, little red night gown, night gown, little red night gown" and I can't print where my mind goes after that. Such a filthy beat, that little red night gown is going to need laundering I think.
The gorgeous album closer "Gem" is aptly titled. "No reward for calling out your name / As I have done time and time again," Dear croons in a shimmering soundscape. "When you figure out what's real / I'll be standing here / A little bit older, but forgiving / As the night into day." It's a thick, dreamy lament that I'd like anywhere, but Dear's placement of it at the end of the album is an especially welcome palette cleanser.