"Law & Order" Finally Canceled But Emblematic "doink doink" Sound Remains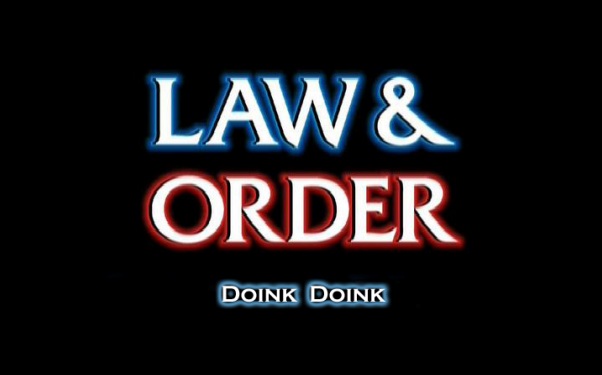 Posted by Brandon Kim on
NBC canceled the original "Law & Order" series in May but there was talk of AMC picking it up or it possibly returning as a TV movie. Alas, the verdict is in on Dick Wolf's flagship series and the sentencing is final. "We were extremely disappointed that 'Law & Order' is not coming back for a record 21st season, but that's business, that's life," Wolf told Digital Spy. "Everything on television is born under a death sentence, they just don't tell you the day of execution."
The show may be over, but it leaves us with that ubiquitous scene changing sound effect that is still used in all the spinoff's. You know that kind of scary, gavel smacking sound that's got to be the current title holder for Most Recognizable Sound on TV. Actor Dann Florek (Captain Donald Cragen from both the original and spinoff "SVU") dubbed it the doink doink.
Here, say something copish like, "Congratulations, you just bought the Brooklyn Bridge from a double murderer!"* and hit play:
Celebrated TV composer Mike Post ("The A-Team," "Hill Street Blues," "Magnum, P.I.") is responsible for the show's theme song (below) and I suspect played some part in the creation of the doink doink — but it seems more a product of overly complex Foley artistry. According to IMDB the doink doink was made by combining nearly a dozen dozen sounds, "including that of a group of monks stamping on a floor."
The latest spinoff "Law & Order: Los Angeles" debuts on NBC on September 29. Let's see if they doink it up.
*Actual Det. Lennie Briscoe (Jerry Orbach) line.