The Breakfast Club's Newest Member: Kevin Smith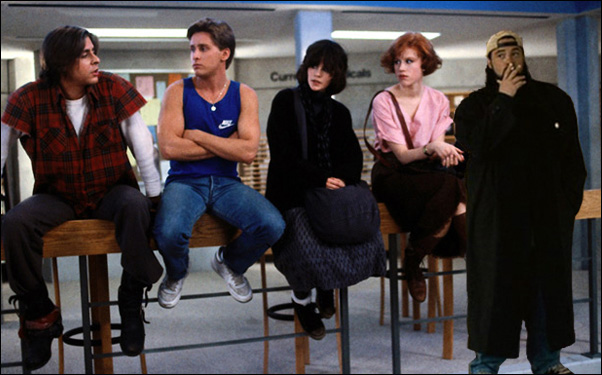 Posted by Matt Singer on
From the God We're Getting Old Department comes word that the Film Society of Lincoln Center has announced plans to celebrated the 25th anniversary of the epochal teen film "The Breakfast Club" on Monday September 20 with a special screening of the film at New York City's Paris Theater, followed by cast Q & A with Anthony Michael Hall, Judd Nelson, Molly Ringwald and Ally Sheedy. The screening is part of a 2-day retrospective of John Hughes' work commemorating the one year anniversary of the beloved writer/director's death of a heart attack at the age of 59. To moderate the Q & A in his absence, the Film Society recruited filmmaker Kevin Smith.
Why Smith? The "Chasing Amy" and "Cop Out" director told The Los Angeles Times' Patrick Goldstein back in 2008 that Hughes was his generation's J.D Salinger and added that "If it weren't for him, I wouldn't be doing what I do. Basically my stuff is just John Hughes films with four-letter words."
That influence is most obviously seen in Smith's first film "Clerks," which shares "The Breakfast Club"'s structure — a seemingly ordinary but ultimately crucial day in the life of some confused young people confined against their will to a single location — and its emphasis on character and dialogue over plot and elaborate camera work. Smith's version is much more profane and a lot more interested in popular culture but it's pretty easy to find the through line. His next film "Mallrats" also utilizes a one day, one location structure, as well as larger and even more Hughesian cast of misfits: the comic book nerd, the hunk, the princess with the overbearing father, the burnout, the prodigy, and so on.
Smith's most direct homage to Hughes' work came in "Dogma" where the director's films provided Jay (Jason Mewes) and Silent Bob (Smith) their reason for leaving their beloved New Jersey home.
Note that Smith cast himself as the Hughes fan; note also that Smith's "View Askewniverse" films, all set in the same part of New Jersey that Smith grew up, has a clear predecessor in Hughes' Shermer, Illinois, a fictional town based on Hughes' hometown of Northbrook where many of his teen films take place. Both "Dogma" and Smith's next film "Jay and Silent Bob Strike Back" are road trip movies, a trope Hughes returned to often, from his first hit screenplay, "National Lampoon's Vacation" to his most beloved adult-centric film "Planes, Tranes, and Automobiles" and the charming "Dutch." Even Smith's most poorly received film, "Jersey Girl," about a single father and his adorable daughter, bears certain affinities with Hughes' own weakness for precocious children; he is the man, after all, who gave us "Home Alone" (at least in screenplay form).
Given the influence Hughes' films had on his career, and given his ability to channel his inner sex-and-"Star Wars"-obsessed-16-year-old, it's kind of surprising to realize Smith's never actually made a teen comedy. All of his work in similar channels has remained squarely focused on the post-high school set. I wonder why. Maybe something to ask him on September 20.
NOTE: Smith tweeted about this piece on Wednesday morning and provided his own response to my question: "I never did high school flicks 'cause Hughes PWNED the genre."