It's a Quadruple Scary Feature Fright Night Horror Fest!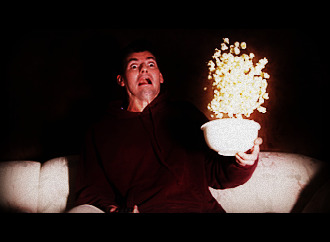 Posted by Melissa Locker on
It's the middle of August, meaning summer is almost over. (Oh the horror!) So get a running start on one of your last summer weekends by staying up all night watching super scary movies with IFC.
The blood-soaked fun starts with Saw at 7 p.m. ET. In the twisted film, Cary Elwes awakes to find himself locked in a cell with a diabolical dilemma. He must either murder his cellmate or his family will be killed in a suitably appropriately horrible manner. Needless to say, this is a big change his role in 'The Princess Bride'.
Rob Zombie's The Devil's Rejects follows at 9:45 p.m. The film is a follow-up of sorts to his 2003 blood-and-gore fest 'House of 1000 Corpses'. In this delightful feature, a band of sociopathic killers are on a bloody roadtrip while their crazed mother is being held by the sheriff. Recipe for revolting fun, right?
What better to follow those two classic family values films (kidding, kidding) than Hostel and Hostel Part II? In the original Hostel, two horny American backpackers head to Slovakia for some easy girl action. And get themselves gloriously murdered for giving American backpackers such a bad reputation. In 'Hostel Part II' it's the ladies' turn for torture and mayhem as three lovely students abroad get to the bottom of a unique (and lethal) European beauty secret.
Pro Tip: Don't watch alone.
'Saw' airs at 7 pm ET; 'The Devil's Rejects' starts at 8:45 pm ET; 'Hostel' is on at 10:35; and 'Hostel Part II' is on at 12:15 am ET.