Insert Credit: Scott Pilgrim vs. The World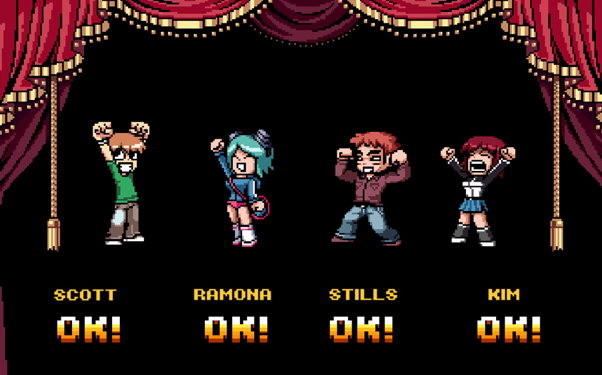 Posted by Evan Narcisse on
Insert Credit endeavors to suss out where you should be allotting your video game allowance, sifting out a single title from many and crowning it as The One Game You Need to Get This Week. Don't consider these reviews, gentle reader. Rather, think of Insert Credit as a mix of hands-on time, informed opinion and intuition.
For the week of August 9, 2010, you should insert credit into: "Scott Pilgrim Vs. the World"
Scott Pilgrim. Man, that guy's everywhere. Still, the one place Bryan Lee O'Malley's comics creation hadn't landed — until this week — was in a video game. Ubisoft just released a downloadable game that brings everything full circle.
With the evil exes serving as level bosses who cough up experience and money when they get defeated, the comic's internal logic owes a strong debt to old school video games. That feedback loop comes right on back to the game, which is a purposefully retro beat-em-up, in the vein of arcade classics "Double Dragon" and "Final Fight."
Despite being in hi-def, the "Scott Pilgrim Vs. the World" game sports the same charming sprite animations of pixel classics as "Mega Man." Up to four players can play as various members of the comic's cast and can unleash fun super-attacks like blasting enemies with an impromptu concert. The jump-punch-kick action is accompanied by an infectious chiptune soundtrack by Anamanaguchi, too. Ubisoft's internal development studios include lots of sly nods to the comics, with locations and characters who didn't make it into the movie popping up in cameos. You can pop into Dee's Tex Mex to replenish Scott's health or kick bitchy bedroom producer Joseph in the gut. Accidentally, of course. Throughout the game, new art by O'Malley fills in the story as it unfolds in yet another medium.
Most winningly, this tie-in game channels the rabid pop-culture love that informs the comic and the movie it spawned. It's not over-produced nor does it feel like a mercenary afterthought. It hits all the right notes of an old-school game, including being surprisingly hard.
"Scott Pilgrim Vs. the World: Game" is out now for the PlayStation Network for the price of $9.99. It will hit Xbox Live on August 25th.