Insert Credit: "Lara Croft and the Guardian of Light"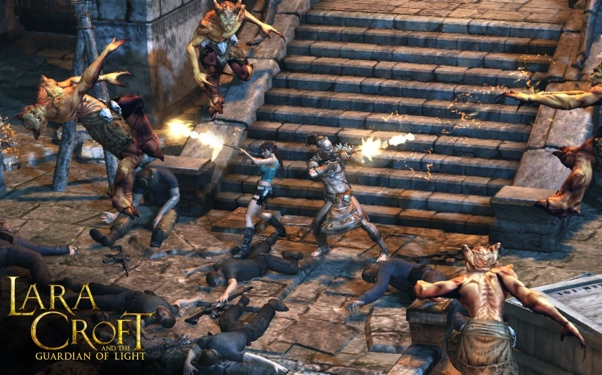 Posted by Evan Narcisse on
Insert Credit endeavors to suss out where you should be allotting your video game allowance, sifting out a single title from many and crowning it as The One Game You Need to Get This Week. Don't consider these reviews, gentle reader. Rather, think of Insert Credit as a mix of hands-on time, informed opinion and intuition.
For the week of August 16, 2010, you should insert credit into: "Lara Croft and the Guardian of Light"
Funny what a name change can do. By simply taking out the words "Tomb Raider" from the title of their new action archeology game, publisher Eidos created an air of mystery around Lara Croft's next outing. And when the word spread that "Lara Croft and the Guardian of Light" would be a downloadable title, many wondered if it'd be a rank cash-in that would mark the last gasp of a once-great series.
On one hand, you have to pity poor Lara. Everything that made her unique has been eroded as gaming's march into the mainstream. Though female bad-asses are still rare, they're more in evidence than when Lara made her debut. Back then, the muscle boys of the Expendables were on their first go-round of fame and machismo was the norm. Sassy treasure-hunting? A dude named Nathan Drake–hero of the Uncharted series on Playstation–has captured this gaming generation's hearts on that front. Sexy design? Lara's tank top and shorts look tame compared to someone more recent like, say, Bayonetta.
But, "Guardian of Light" is no last gasp. In fact, it reinvigorates the character by re-jiggering the things that make her games work into a different format.
The games essentially plays as top-down twin-stick shooter, like old-school arcade classic "Robotron 2084" and newer games like "Geometry Wars." One analog stick moves the character and the other aims the bullets in a 360º radius. Lara's always had gun-focused combat but changing the camera angle makes it so you don't have to worry about navigation as much. Speaking of navigation, the game is huge. Just because it's a download doesn't mean that the developers have sacrificed the huge environments that Lady Croft likes to prowl. The isometric camera view provides sweeping views of the levels and takes the focus off of Lara's endowment.
The biggest change in "Guardian of Light" is the addition of multiplayer. The game's plot concerns a theft of the mystical Mirror of Smoke artifact once held an ancient, evil South American god named Xolotl. The mirror's disappearance also stirs Totec, the guardian of Light from the title, and a second player can take his role and join the action. The two characters have skills that complement each other in combat and exploration, making for a completely new mechanic for a Lara Croft game.
Overall, the game's sharp re-invention of a long-standing character that makes an altogether different but fun experience possible. Grab "Lara Croft and the Guardian of Light" now on Xbox Live for 1200 MS Points ($15). It'll be available for the PlayStation 3 via the PlayStation Network and on PC via Steam on September 28th, 2010 for $14.99.