Indie Misadventure, "Wah Do Dem," stars Norah Jones, Sean Bones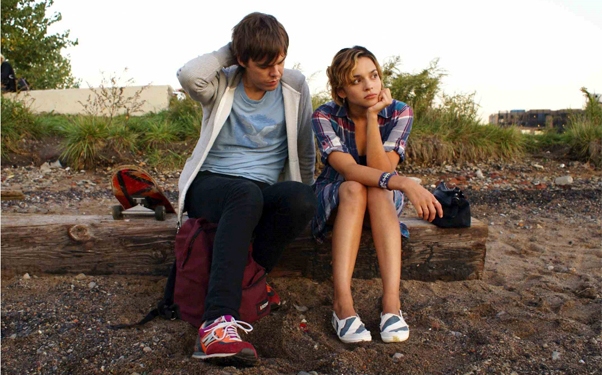 Posted by Brandon Kim on
Norah Jones appears in this indie feature you probably missed called, "Wah Do Dem," (which is Jamaican Patois for "What they do"), her first since 2007's "My Blueberry Nights." She plays the girlfriend of a young Brooklyn musician played by young Brooklyn musician, Sean Bones, in this Caribbean misadventure.
Jones dumps Bones just days before they're due to set sail on one of those huge floating malls called cruise ships, bound for Jamaica. His friends blow him out too and, finding no one else to accompany him, he sets out alone. If you've ever been on one of these monuments to excess before, you know what an unromantic mistake that is. I'll let the official synopsis take over from there:
Over the course of several days he flirts with the staff photographer, drinks cocktails with the boat's celebrity juggler and has several strange encounters with the only other loner. When the cruise liner docks in Jamaica, Max quickly escapes the tourist zone. At a local jerk stand he meets a charming Rasta who offers to show him a secret beach. Feeling irie as he lounges on the tropical sand with his new friends, Max loses track of time and his personal belongings. In his pathetic attempt to do something about it, he finds that the cultural divides he thought he could transcend are not so simple. Naked and broke in a foreign country where he stands out like a sore thumb, Max begins to make his way towards the American Embassy in Kingston. Along the road Jamaica is waiting to meet him.
Directed by Sam Fleischner & Ben Chace, the film won Best Dramatic Feature at the '09 LA Film Festival. Amazingly, the plot follows almost exactly what happened to me that same summer, but without Norah Jones. "Wah Do Dem," will be released October 26, on DVD and you can catch it on Netflix too. Music & Appearances include MGMT, Yeasayer, Santigold, The Congos, Suckers, Myskal Rose, Mr. Lexx and Sean Bones.