Indie Alert!: Super Meat Boy Coming to Xbox Live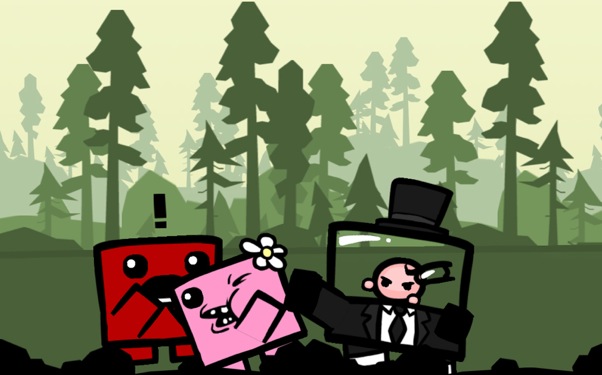 Posted by Evan Narcisse on
Look, I'm not going to try to explain "Super Meat Boy." I'll just let the official description from dev studio Team Meat do all the talking:
"Super Meat Boy" is a game where you play as a boy without skin whose girlfriend who is made of bandages gets kidnapped by a fetus in a tuxedo wearing a top hat and a monocle.
Some clarification:
• Dr. Fetus is wearing some kind of exoskeleton that allows him to do all the kidnapping and teleporting and stuff.
• Meat Boy is essentially a platformer, albeit on where you leave messy splotches of blood wherever you jump.
• There are t-shirts. This is Team Meat co-founder Edmund McMillen wearing one.
Super Meat Boy represents the all-new, all-polished version of the Meat Boy freeware game that's been an indie darling for the last year or so. SMB was nominated for several Independent Game Festival awards this year and has already been confirmed for release on Nintendo's WiiWare download hub.
Now, Team Meat's announced that SMB will be featured on Xbox Live as part of the Microsoft's upcoming Game Feast promotion. Though details are scant on Game Feast, one can presume that it'll be a selection of downloadable titles like those featured in the just-ended Summer of Arcade promotion. ("Limbo" and "Lara Croft and the Guardian of Light" were both part of the Summer of Arcade offering).
No price or exact date has yet been given to the impending Meat-iness but, regardless, it's great to see a quirky, bizarre vision have the chance to net a wider audience on a mainstream console. Here's to more Meat!