In Development: "YooStar 2" Turns Gamers Into Hollywood Players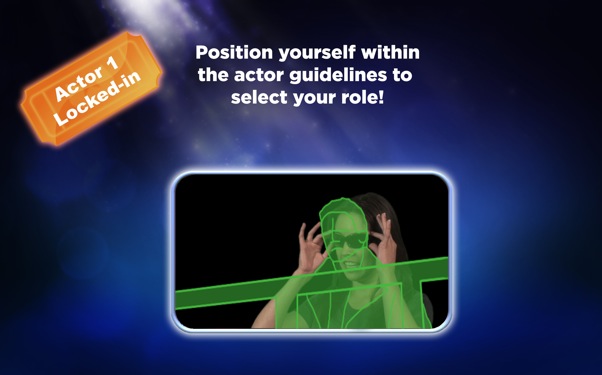 Posted by Evan Narcisse on
So there I was getting ready to become one of the Borg. Not just any Borg either, mind you. I was going to be Locutus, the cyborg built out of Patrick Stewart's Jean-Luc Picard. The transformation was painless and, honestly, quite fun.
I became Locutus by playing an early build of "YooStar 2," an upcoming title for the Xbox 360 and PS3. YooStar Entertainment calls their gameplay concept "movie karaoke" and it pretty much lives up to the name.
The reason this title's called "YooStar 2" is because there was a previous iteration of the Yoostar idea for PCs last year. "YooStar 1" shipped with a special webcam and a greenscreen backdrop. The game console versions don't need any of that, nor do they need the tricky configuration set-up that some PCs required to get it working in the first place. It's much easier on game consoles: just slip in the disc and step in front of the Playstation Eye or Xbox 360 Kinect cameras. The PS3 version will use their upcoming Move motion controller for navigation and some gameplay.
After players pick a scene, they'll need to step into frame to get scanned. Once that happens, a timing bar scrolls along to let you know when it's time for your lines. "YooStar 2" sports technology that will recognize whether your readings sync up with the dialogue and whether your movements. But you're not beholden to the scene as it plays out, either. You can ad lib your own dialogue with hilarious results, too.
As with any karaoke style game, "Yoostar 2 "will only be as good as their catalogue. But it looks like they're doing their due diligence there. Deals have been signed with six of the major studios, including Paramount, Warner Bros. and Universal. 50 movies scenes will be on the disc, some of which will be familiar sets and memorable scenes where you can improvise. "YooStar 2" will also be building out the catalogue with weekly DLC updates, holding anywhere from 5 to 15 scenes. Among the scenes I saw during my demo were sequences from "Kick-Ass," "Rocky," "Beverly Hills Cop" and "The Godfather."
Like "Def Jam Rapstar," "YooStar 2" will also have social networking components that push out to the YooStar website. Users can vote on the performances upladed by others and you'll be able to share your scenes with friends on Facebook and Twitter.
"YooStar 2" is still a ways off from release, but even at this stage it looks like a fun, inviting party game.