House of D: Not Your Average Trip Down Memory Lane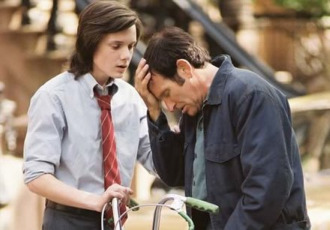 Posted by Melissa Locker on
House of D, David Duchovny's 2004 directorial debut, is a wistful and sentimental telling of a childhood in New York City's East Village in 1973. It doesn't start in the wide sideburns and over-sized lapels of groovy New York, though, it starts in Paris. Duchovny stars as Tom, an artist living the quintessential life of an expatriate artist, but something is calling him home, both physically and emotionally. As many a psychoanalyst will tell you, getting to the bottom of intense feelings requires a trip to the past.
Via a long journey down memory lane, we end up in Tommy's 1973. His mother, played by Tea Leoni, is not well and young Tommy (Anton Yelchin) quickly falls into the role of his mother's caretaker. But even a world weary child is still a child and Tommy finds much needed help and support from some unlikely corners. Tommy's best friend is the developmentally disabled, yet adult, Pappass (Robin Williams, taking an indie film turn) who offers sage advice and pearls of wisdom under the guise of naivete. The other guiding voice in Tommy's life is Lady (Erykah Badu) who is locked up in the eponymous House of D, a women's detention house. Through the bars of the prison and with the help of a shard of mirror, Lady helps Tommy make the right life choices, especially when it comes to following his dreams and interacting with the opposite sex. The films minimal tension arrives when Pappass, frustrated by the creeping distance between him and his best friend Tommy, gets into trouble and needs help.
The film is a very earnest coming-of-age film written and directed by David Duchovny filled with very sincere acting by Robin Williams (take that as you wish). The movie is far from perfect, but it is a heart-warming drama about a grown man coming to terms with the life he left behind.
House of D plays on IFC at 2:15 p.m. ET