Gus Van Sant's 'Last Days': A Beautiful Tragedy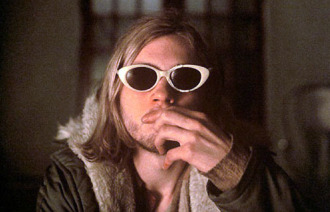 Posted by Melissa Locker on
Gus Van Sant's film 'Last Days' takes an anonymous look at the final days of a very famous rock star.
Blake, played by Michael Pitt, is an eerie stand-in for Nirvana's lead singer Kurt Cobain. He looks like him, he dresses like him, and he acts like him. Blake is the leader of an unexpectedly successful rock band who has no idea how to handle the newfound and possibly unwanted fame and fortune. He is clearly depressed and isolated, even though the large rundown mansion he lives in is filled with so-called friends. He wanders the halls of his home avoiding interaction and barely speaking.
The movie is languid and low-key to the point of almost being reminiscent of Andy Warhol's movies. But instead of watching someone sleep for three hours you see a man looking for something, anything, to set himself free. The pace of the film is so slow that the audience ends up waiting for something to happen almost as much as the angst-filled protagonist. We all know how the movie ends, but as we travel with Gus Van Sant on his directed meditation on those sad final days, the journey almost makes sense of that tragic finale. Almost.
The film is beautifully shot, heartbreaking, but enjoyable, but not nearly as beautiful, heartbreaking, or enjoyable as the bittersweet beauty of the real Kurt Cobain in concert:
'Last Days' is on IFC at 4:15 p.m. EDT and again Sunday, Aug. 29 at 10:15 AM EDT and
Monday, Aug. 30 at 4:20 AM EDT.