Revived and Derived: "Freaks and Geeks" Ep. 8, "Girlfriends and Boyfriends"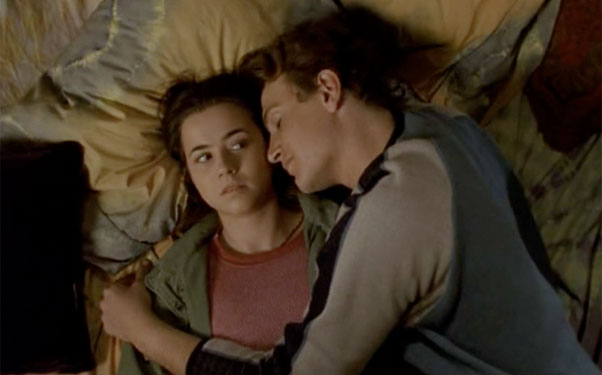 Posted by Matt Singer on
"Freaks and Geeks" is now airing on IFC, and we thought we'd take this opportunity to revisit the show that launched a thousand bromance movies. Every week, Matt Singer and Alison Willmore will be offering their thoughts on that night's episode.
Episode 8: Girlfriends and Boyfriends
Directed by Lesli Linka Glatter
Written by Patty Lin and Paul Feig

Originally aired January 17, 2000
"It was the worst five dollars I've ever spent. And I wish I could get that five dollars back." — Harold Weir
Matt: This week's episode is all about biology: while the geeks learn about plant cell structure with their lab partners (and Sam tries to forge a relationship with his crush, Cindy Sanders (Natasha Melnick)), Lindsay considers going all the way with Nick. And after last week's brief flirtation with lightness and broader humor, "Freaks and Geeks"' takes a sharp turn back toward the dark side.
By the end of "Girlfriends and Boyfriends" both Lindsay and Sam are disillusioned about love: Lindsay's saddled with a creepy boyfriend she doesn't really like and Sam winds up on the friendship dip with Cindy. Really, the only positive aspect of dating in this episode is the fact that that it gives the Weir siblings something to commiserate about, which they do in a scene that helps cut the acidity of another bleak storyline with a little tenderness and warmth.
Though burnout Nick and cheerleader Cindy don't have a lot in common, they do share a certain crucial characteristic: both seem a lot weirder the more you get to know them. From a distance, Nick seemed like an endearingly sweet and sensitive guy. Walking arm and arm (or, as in one particularly uncomfortable moment, hand in jeans back pocket), Nick's sweetness and sensitivity threaten to suffocate Lindsay. After spending an entire episode wondering and worrying about whether to give her virginity to Nick, Lindsay practically has to beg him to even make out with her. "All guys want to make out," Nick replies. "I just want to hold you." Ick.
As for Cindy, she looks like the stereotype of the perky, vapid cheerleader, but "Girlfriends and Boyfriends" give us a glimpse at a more complicated reality beneath that shiny surface. Despite her parents insistence on healthy snacks at home, she sneaks out for bacon cheeseburgers with Sam; despite her insistence that a vinyl chair is to blame, she even cuts the cheese in front of lab partner Bill. That leads to one of my favorite scenes in "Freaks and Geeks" history: Martin Starr as Bill testing Cindy's claim by trying to recreate the fart noise with his own butt. No dice: girls really can pass gas. Illusion = shattered.
And speaking of illusions shattered and misleading surfaces, this episode gives us our first real glimpse into the mind of another wonderfully surprising supporting character: Jerry Messing's Gordon Crisp. Overweight and painfully smelly, Gordon's so lame even the geeks look down on him. But after they're put together as lab partners, Sam realizes Gordon has a lot to offer: he's extremely perceptive of Sam's feelings toward Cindy, and has tons of good advice to help him pursue her. He's also keenly aware — but not neurotically obsessed with — his body odor problems, which are caused by a medical condition he can't control.
Alison, if there's one flaw in this episode for me, it's the fact that Lindsay's dilemma, while superbly performed by Linda Cardellini, tries to wring suspense out of a question — is Nick going to pressure Lindsay into having sex? — that isn't very suspenseful. Even before we watch Jason Segel deliver yet another cringe-inducing performance — this time confessing his feelings to Lindsay by performing Styx's "Lady" for her, spoken word style — Nick just seems too nice and too genuinely interested in a long term relationship to try for a simple hook up. Do you agree?
Alison: Well, let's not forget that Nick's first overt advance on Lindsay was to try to undo her bra while comforting her in "Beers and Weirs" — so we've seen that, as nice a guy as he is, he's not neutered. But no, I never believed he would pressure her, because it's impossible to imagine sweet-natured, pot-addled Nick pressuring anyone into anything — even that fumbled, ill-advised first pass, episodes ago, was due to awkward mixed signals, not confident aggression.
(Speaking of awkward — how brilliantly out of sync are Lindsay and Nick together? From their bumping heads when he goes in for a kiss to the back pocket bit in the cold open you mentioned to their embrace in the basement, in which he cuddles up to her as she stares at the ceiling, their lack of physical chemistry is amusingly choreographed by Cardellini and Segel, who, naturally, ended up dating post-show.)
I thought of the set-up as less one that tries to build will-they-or-won't-they suspense and more the latest instance of "Freaks and Geeks" playing off typical after school special expectations. The developments you'd expect in any other show would include Nick pressing Lindsay to go all the way, and Lindsay realizing she's not ready yet and saying no. Instead, Lindsay seems to be nervously leaning toward taking this next step into freakdom, and it's Nick who wants to wait, who plays the heart-on-his-sleeve romantic with the candles and the interpretive spoken word rendition of "Lady," one of the show's signature moments and a segment during which I have to struggle not to cover my eyes.
Everyone around Lindsay is more invested in her relationship with Nick than she is. Her mom's excited about her daughter's first boyfriend (until she finds out who he is), her dad's worried he'll become a grandfather too soon, Mr. Rosso (Dave Allen) doesn't want her to get an STD, Kim wants to hear the gossip and Daniel's pleased that his friend, who's "a really great guy," has a girlfriend. It's that final exchange that's particularly interesting, taken with the revelation that Nick used to play basketball before he was caught with a dime bag and kicked off the team. Nick's obviously been drifting along in a self-medicated haze for a while, and is in dire need of something to latch on to, a fact that his friends have realized. Unfortunately for Lindsay, that thing is her.
What's so nice about that moment between the Weir siblings at the kitchen table at the end of the episode is how the two are unhesitatingly honest with each other in a way they've not been able to be with anyone else in this episode. When Sam asks if Nick is now Lindsay's boyfriend, she shrugs "I guess so" — when Cindy phones to talk about how her crush finally called, Sam mimes strangling himself in frustration. After all of the huge gaps in communication that happen throughout "Girlfriends and Boyfriends," the misunderstandings about romantic interest, the unwanted cautionary anecdotes about cold sores and Patty Filker and Korean brothels, it's a relief to see that, despite their differences, the younger Weirs can at least open up to each other.
Matt, am I wrong in thinking that, despite her ambivalence toward him romantically, Lindsay seemed to be seriously contemplating, er, rounding home base with Nick? And speaking of revelations of weirdness, what did you make of Cindy's "Diary of a McKinley Student" reading during yearbook? "Education, or isolation? Class dismissed."