'Girl With a Pearl Earring': An Artist and His Muse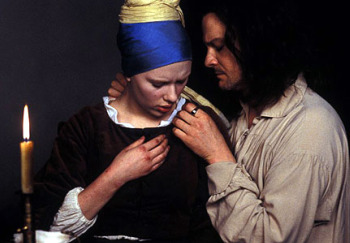 Posted by Melissa Locker on
If you were unlucky enough to be born poor in the Netherlands in the 17th Century, the best thing to do to improve your lot in life is to look like Scarlett Johansson. Girl with a Pearl Earring, adapted from the work of historical fiction by Tracy Chevalier, tells the story behind the creation of Johannes Vermeer's masterwork "Girl With A Pearl Earring". Scarlett Johansson stars as Griet, the lowly maid sent to work in the home of the great Dutch master painter, played by Colin Firth. Shockingly, Griet's startling good works (and, just guessing, full set of teeth) caught the eye of the artist and he created the now famous portrait of the working class girl despite her unwillingness to pose.
Despite its beauty, the portrait raises a controversy. Tom Wilkinson plays Vermeer's wealthy patron who is displeased by the work, because he wants Griet for himself. Vermeer's pregnant wife (Essie Davis) is also none to happy that the extremely attractive scullery maid is cleaning her husband's studio (not a euphemism). Griet must navigate the difficult waters of 17th century gossip and scandal while supporting a family and developing a relationship with a suitor, played by Cillian Murphy.
Directed by Peter Webber, the movie is lush and beautiful, not simply because the camera is frequently focused on ScarJo's face. It was nominated for three Oscars, including well-deserved nods for both art direction and cinematography. Between the colors, luminous lighting, and rich photography, Vermeer himself would probably approve of the movie.
Girl With a Pearl Earring airs on IFC at 1 p.m. ET