Ricky Gervais' Buried "Cemetery" and Olga Kurylenko's "Assassin" New on DVD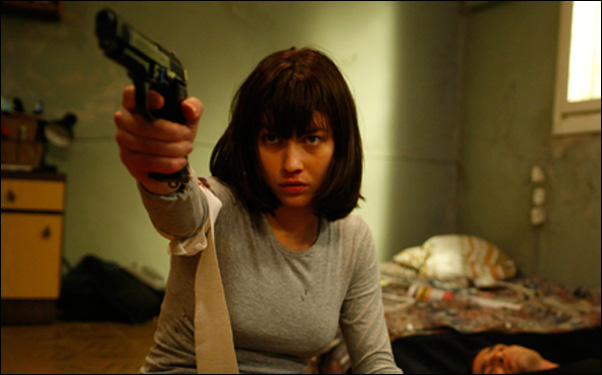 Posted by Stephen Saito on
A look at what's new on DVD today:
"The Assassin Next Door" (2009)
Directed by Danny Lerner
Released by First Look Studios
Retitled since its premiere at last year's Toronto Film Festival as "Kirot," Bond girl Olga Kurylenko is the one handling the gun in this thriller about two women — an assassin and a grocery clerk — desperate to leave their lot in life who hatch a plan to improve their situation and decidedly won't do the same for the men who stand in their way.
"Black Orpheus" (1959)
Directed by Marcel Camus
Released by Criterion Collection
Marcel Camus' Palme d'Or-winning Brazilian-set retelling of the Greek myth of Orpheus and Eurdice is reissued by Criterion Collection on Blu-ray and DVD with a completely new set of extras including the French documentary "Looking for 'Black Orpheus'" about the film's legacy and archival interviews with Camus and actress Marpessa Dawn.
"Burning Bright" (2009)
Directed by Carlos Brooks
Released by Lionsgate
Fresh from 2008's Vera Farmiga/Nick Stahl drama "Quid Pro Quo," Carlos Brooks directs this thriller starring "Sorority Row"'s Briana Evigan as a girl who must protect her autistic brother from the tiger that's been let loose in her house during a hurricane. If you're to believe the positive reviews out of UK's FrightFest 2010, the film is nowhere as stupid as it sounds.
"Ca$h" (2009)
Directed by Stephen Milburn Anderson
Released by Lionsgate
An early chance to feast your eyes upon future "Thor" Chris Hemsworth, here he stars with Victoria Profeta as a young married couple in Chicago who unwittingly stumble into just over half a million dollars. Yet as soon as they resolve to put the money to use, a British thug (Sean Bean) arrives in town to quickly put their spending spree to a halt.
"Cemetery Junction" (2010)
Directed by Ricky Gervais and Stephen Merchant
Released by Sony Pictures Home Entertainment
Although Ricky Gervais and Stephen Merchant's first feature together did play one theater in Southern California last week, it will unfortunately suffer the indignity of being released on DVD and Blu-ray this week without the benefit of a big theatrical run in the States. A sleekly shot, mostly by-the-numbers coming-of-age dramedy with supporting turns from Ralph Fiennes and Matthew Goode, "Junction" is not what you'd expect from the guys who brought you "Extras" and "The Office," but that's probably why it was met with indifference by distributors.
"City of Your Final Destination" (2008)
Directed by James Ivory
Released by Screen Media Films
Though Bilge Ebiri concluded there's no real story to the latest Merchant Ivory production (and in fact, the final one involving producer Ismail Merchant, who passed away during its production), this adaptation of Peter Cameron's novel stars Omar Metwally as an academic who travels to Uruguay to convince the family of a late novelist to let him write a biography. Anthony Hopkins, Charlotte Gainsbourg and Laura Linney co-star as the blood relatives of differing aims.
"Dark and Stormy Night" (2009) and "The Lost Skeleton Returns Again" (2009)
Directed by Larry Blamire
Released by Shout! Factory
Indie cult director Larry Blamire brings not one, but two schlocky sendups of '50s science fiction and horror films with the sequel to his 2001 comedy "The Lost Skeleton of Cadavra" and "Dark and Stormy Night," which spoofs haunted house movies when a family gathers to hear the reading of their patriarch's will and gets picked off one-by-one.
"The Good, the Bad and the Weird" (2008)
Directed by Ji-woon Kim
Released by IFC Films/MPI Media Group
Ji-woon Kim's epic action comedy western pretty much covers all the bases with the adventure of three men — the bounty hunter Good, the hitman Bad, and the thief Weird — as they travel across Manchuria fighting off each other and enemies from Japan and China to get their hands on some treasure. (Read our review.)
"Hamlet" (1996)
Directed by Kenneth Branagh
Released by Warner Bros.
Short of a movie palace, Kenneth Branagh's grand four-hour, 70mm reinterpretation of the William Shakespeare classic will likely best be appreciated with this new Blu-ray of the film.
"L'enfance Nue" (1968)
Directed by Maurice Pialat
Released by Criterion Collection
Joining his 1983 film "À nos amours" (spine #337) in the Criterion Collection, Maurice Pialat's 1968 drama concerning the downward spiral of a 10-year-old foster child makes its American DVD debut, with extras including the short "L'amour existe," a vintage interview with Pialat, a visual essay by Kent Jones and a making-of documentary.
"Skellig: The Owl Man" (2009)
Directed by Annabel Jankel
Released by Image Entertainment
Ordinarily, a British TV movie aimed at children like this adaptation of David Almond's fantasy novel about a child's discovery of a birdlike creature with mysterious healing powers in the garage of his new house might not grab our attention. But that's without mentioning "Son of Rambow" star Bill Millner plays the child, Tim Roth plays the winged creature, and Kelly MacDonald co-stars as the kid's mother.
"Spring Fever" (2009)
Directed by You Le
Released by Strand Releasing
Although Lou Ye's drama is currently playing at the IFC Center in New York, it's hitting video stores and Netflix today, something that might be considered amazing since Ye shot the film in secrecy after receiving a five-year ban from the Chinese Film Bureau in 2006 after taking the controversial "Summer Palace" to Cannes without their permission. In "Spring Fever," he follows a private investigator hired by a jealous wife to spy on her husband, who is having an affair with another man, and gets in over his head.
[Additional photos: "Cemetery Junction," Sony Pictures Home Entertainment, 2010; "L'enfance Nue," Criterion Collection, 1983]