Full 2010 New York Film Festival Lineup Announced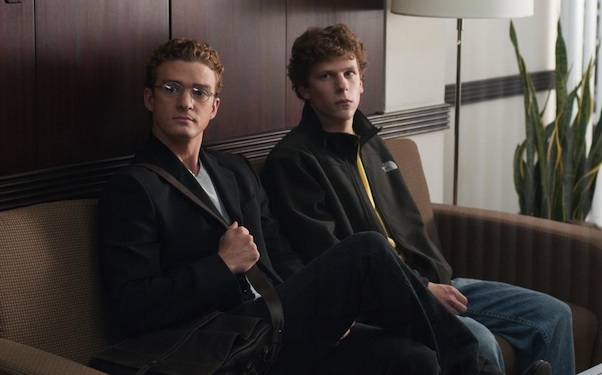 Posted by Matt Singer on
The New York Times announced the 2010 New York Film Festival lineup this morning. They even beat the festival's own website to the news. Kyle Chandler would be proud.
Anyway, The Film Society of Lincoln Center, organizers of NYFF, had already announced David Fincher's Facebook biopic "The Social Network" as their Opening Night film. Now they've added twenty-five features to their roster, plus Clint Eastwood's "Hereafter" as the Closing Night selection. The Times describes the film as the story of "the gradual connections of an American psychic (played by Matt Damon); a French journalist (Cécile de France) who has a brush with death in the 2004 tsunami; and a London schoolboy who loses his twin brother (Frankie and George McLaren)." "Hereafter," by the way, makes nine movies for Eastwood in nine years. It's like he and Woody Allen are locked in a weird game of directorial chicken or something.
As usual, the rest of the NYFF lineup is largely comprised of the summer festival circuit's most notable films, including Palme D'or winner "Uncle Boonmee Who Can Recall Past Lives." I'm most excited to see "Meek's Cutoff," the new film from "Wendy and Lucy" director Kelly Reichardt. The full list:
Opening Night
"The Social Network," David Fincher, USA
Centerpiece
"The Tempest," Julie Taymor, USA
Closing Night
"Hereafter," Clint Eastwood, USA
"Another Year," Mike Leigh, UK
"Aurora," Cristi Puiu, Romania
"Black Venus," Abdellatif Kechiche, France
"Carlos," Olivier Assayas, France
"Certified Copy," Abbas Kiarostami, France/Italy
"Film Socialisme," Jean-Luc Godard, Switzerland
"Inside Job," Charles Ferguson, USA
"Le Quattro Volte," Michelangelo Frammartino, Italy
"Lennon NYC," Michael Epstein, USA
"Meek's Cutoff," Kelly Reichardt, USA
"My Joy," Sergei Loznitsa, Ukraine/Germany
"Mysteries of Lisbon," Raul Ruiz, Portugal/France
"Of Gods and Men," Xavier Beauvois, France
"Oki's Movie," Hong Sang-soo, South Korea
"Old Cats," Sebastian Silva, Chile
"Poetry," Lee Chang-dong, South Korea
"Post Mortem," Pablo Larrain, Chile/Mexico/Germany
"Revolucion," Mariana Chenillo, Fernando Embecke, Amat Escalante, Gael Garcia
Bernal, Rodrigo Garcia, Diego Luna, Gerardo Naranjo, Rodrigo Plá, Carlos Reygadas,
Patricia Riggen, Mexico
"The Robber," Benjamin Heisenberg, Austria/Germany
"Robinson in Ruins," Patrick Keiller, UK
"Silent Souls," Alexei Fedorchenko, Russia
"The Strange Case of Angelica," Manoel de Oliveira, Portugal
"Tuesday After Christmas," Radu Muntean, Romania
"Uncle Boonmee Who Can Recall Past Lives," Apichatpong Weerasethakul, UK/Thailand
"We Are What We Are," Jorge Michel Grau, Mexico
The festival runs from September 24 to October 10. You can find detailed descriptions of the selections over on indieWIRE.