Fantastic Fest Unveils Main Lineup of Fantastic Arcade Programming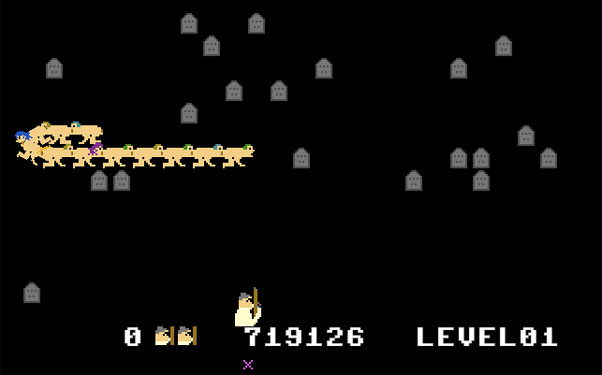 Posted by Evan Narcisse on
Sure, you can sample lots of the most intriguing and fun indie games today simply by inputting a URL into your browser's address field. But, no amount of typing will allow you to meet the code geniuses responsible for making them in person. Unless, of course, you're savvy enough to be going to Fantastic Arcade.
The video game portion of the Fantastic Fest indie cinema event will be showing off more than 25 indie games, many of them accompanied by the to Among the other games showing up in Austin will be the awesomely haunting "Limbo," the hilarious "Enviro-Bear 2000" and the controversial "Super Columbine Massacre RPG."
Organized by curators Mike Plante, Eddo Stern and Roger Erik Tinch, the programming basically assembles damn near every indie game that been's worth playing or talking about in the last few years into one room. What's even better is that the games will be playable on either custom-made arcade stations or on top-of-the-line Alienware laptops.
Some of the attending game designers will be showing off newer work, too, as part of the Fantastic Arcade Spotlight. The Spotlight pits cutting-edge titles like Mark Essen's trippy 8-bit actioner "Nidhogg," Jakub Dvorsky's beautifully intricate "Machinaruium" and Paolo Pedercini's "Every Day the Same Dream."
The games that will be on display blur the line between entertainment, commentary and art so it'll be worth checking them out in the company of the folks who dreamt them up. Think of Fantastic Arcade as your chance to tell designer Jonathan Blow in person how much you love the iconic indie classic "Braid." If you're nice enough, he might even tell you what his next project is.
Fantastic Fest happens in Austin from September 23 to 30. See below for the full press release and more details on Fantastic Arcade.
Fantastic Arcade Competition announces indie game titles

Twenty-eight independent game designers featured at new games fest

Austin, TX–Wednesday, August 11, 2010–Fantastic Arcade, the new independent games festival presented by America's largest genre film festival Fantastic Fest, today announced their principal line-up of twenty-nine indie game titles to be featured at this year's debut independent games event.

Mike Plante, Arcade Curator for Fantastic Arcade, revealed the twenty-nine game titles selected for the festival by himself and fellow curators Eddo Stern and Roger Erik Tinch. The titles are comprised of eight spotlight titles, vying for honors and recognition at Fantastic Arcade, while the other twenty-one indie game titles are previously-released games chosen to be showcased on the basis of their ingenuity, style and attitude fitting within the Fantastic Fest world. Games will be available for free play on eight custom-built arcade-style gameplay stations and twenty-two brand new Alienware notebooks, featuring the Alienware M15x and Alienware M17x gaming notebooks.

The Fantastic Arcade Spotlight competition entries include eight PC game titles Enviro-Bear 2000 from game designer Justin Smith in Vancouver; Every Day the Same Dream from Carnegie-Mellon professor Paolo Pedercini; Feist, by game developers Florian Faller and Adrian Stutz of Zurich; Machinarium from Jakub Dvorský, game designer and visual artist from the Czech Republic; Monaco, from San Diego-based game designer Andy Schatz, Nidhogg, from L.A.-based experimental game designer Mark Essen; Norrland from freeware game designer Cactus in Sweden; and Ulitsa Dimitrova from German game designers Gerard Delmas and Lea Schönfelder.

The Fantastic Arcade Showcase features the following twenty-one game titles: Braid (from game designer: Jonathan Blow); Canabalt (Adam Atomic), which will be featured in a special Fantastic Arcade game tournament; The Dishwasher: Vampire Smile (Ska Studios); Dustforce! (Hitbox); Flotilla (Blendo Games); Garden Gnome Carnage (Daniel Remar); Gravity Bone (Blendo Games); Human Centipede The Game! (I-Mockery); Inside a Dead Skyscraper (Molle Industria); Limbo (Playdead); McDonald's The Videogame (Molle Industria); Oiligarchy (Molle Industria); Operation: Pedopriest (Molle Industria); Overgrowth (Wolfire Games); The Path (Tale of Tales); Spider: The Secret of Bryce Manor (Tiger Style); Super Columbine Massacre RPG (Danny Ledonne); Sword & Sworcery EP (Superbrothers, Capy & Jim Guthrie); Tiny and Big: Up That Mountain (Black Pants Studio); Trine (Frozenbyte); and Zeno Clash (ACE Team).

Plante offers, "One of the goals of Fantastic Arcade is to provide a modest but fun venue for independently-made video games that fit within the genre and attitudes that the Fantastic Fest film festival already thrives on. We picked some games with an experimental style in their design and others are so filmic it looks like Terry Gilliam made them. A few have social commentary powerful enough to write your college thesis about. Mostly, the Fantastic Arcade is going to be kick-ass fun."

The winning Fantastic Arcade Spotlight Competition designer receives a Dell Inspiron M501R notebook. The second place designer receives an ATI graphics card ($500 value). Competition semi-finalists and winners will be announced live at the Fantastic Arcade Awards Show at 7 pm on Sunday, September 26 at the HighBall Ballroom, followed immediately by the Fantastic Arcade closing night party.

The indie game designers will show off their new titles to an audience mix of Fantastic Fest attendees and game fans. More than 4,000 attendees are expected to visit Fantastic Arcade over four days for hands-on gameplay action in a fun, high octane environment at top Austin entertainment venue, the HighBall. Fantastic Arcade sponsors and partners include Alienware, Dell's premiere high end PC division, along with AMD, Dell, G4, 101X, Austin Chronicle, CW Austin, Arcade UFO, GameOver Games and The Guildhall at SMU.

Attendees at Fantastic Arcade will have a choice of a single day pass for $20, with access to all Fantastic Arcade films, panels, parties, happy hour and game demos for one day, or a basic $10 pass that provides access to the game demos and arcade for a single day. The VIP Fantastic Arcade Pass for $60 provides access to everything for all four festival days, plus a limited edition Fantastic Arcade T-shirt. Fantastic Arcade tickets can be purchased online now here.