"Fallout: New Vegas" Boasts Radioactively Hot Hollywood Roster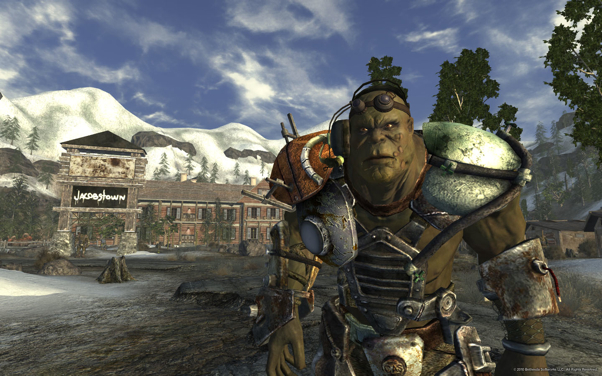 Posted by Evan Narcisse on
One of gaming's most hallowed role-playing game series experienced a resurgence with 2008's "Fallout 3," which focused on the Capital Wasteland, the remnants of Washington, D.C. in a post-apocalyptic world ravaged by nuclear war. The sprawling tale of the protagonist's search for his father across a landscape populated with disfigured mutants, biker bandits and giant mutated insects won over many.
Ron Perlman has served as narrator in every "Fallout" game, and he was joined in "Fallout 3" by Liam Neeson and Malcolm McDowell in key roles. The Holywood star power wasn't necessarily a key ingredient in the success of "Fallout 3," but the extra polish of those recognizable voices helped increase the sheen of the Bethesda Softworks' great storytelling.
Now, the next installment of the "Fallout" series, "Fallout: New Vegas" moves west and adds a slew of Tinseltown talent. Here's the relevant bit from the press release:
Matthew Perry plays Benny, a smooth-talking, two faced gangster, and Wayne Newton takes on the role as "Mr. New Vegas," the radio DJ of the Mojave Wasteland.

Three celebrities take on roles as playable companions in "Fallout: New Vegas": Danny Trejo is Raul the Ghoul, a mechanic and former gunslinger; Zach Levi is Arcade, a member of the Followers of the Apocalypse who hides a mysterious past, and Felicia Day is Veronica, a sarcastic Brotherhood of Steel scribe.

The epic cast continues with Kris Kristofferson as Chief Hanlon, a grizzled solider at the end of his career, and Rene Auberjonois as the enigmatic and reclusive Mr. House.

Michael Dorn reprises his role as Marcus, an intelligent super mutant, who was last seen in 1998's "Fallout 2"; John Doman is Caesar, the charismatic and powerful dictator at the head of Caesar's Legion. William Sadler plays Victor, a friendly robot with the personality of an old-fashioned cowboy.
Now, this may seem like an absolutely egregious use of Hollywood talent, but I think that all these bold-faced names make sense wandering around the setting of a catastrophically ruined Las Vegas. "Fallout: New Vegas" isn't out for another two months, though, so we'll have to wait to see how seriously the various actors approached their parts. But Danny Trejo in anything is never a bad thing.