Double Fine's "Costume Quest" Brings the Cute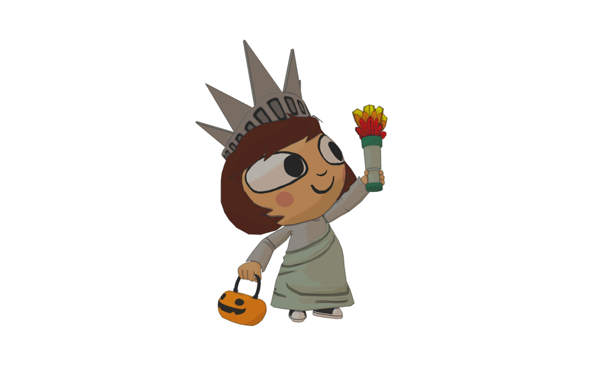 Posted by Evan Narcisse on
Last time Tim Schafer and his Double Fine studio team gave us a game, it was the heavy metal strategy-action game "Brutal Legend." This time out, they're going from hard rock to rock candy with their upcoming downloadable game "Costume Quest."
The game's the brainchild of Tasha Harris, Double Fine's lead animator and a former Pixar employee. "Costume Quest"'s main characters are Reynold and Wren, a brother-sister pair of eager trick-or-treaters. Monsters attack the suburban hamlet where the kids live–abducting either the girl or boy because they look like giant pieces of confection in their the candy corn outfits–and players will search throughout the town for their missing twin. In a nice touch, the game's context-sensitive script will change depending on who you choose to play as. "Costume Quest" is a strategy/RPG hybrid where you'll need to find the different components of various costumes, like a witch's broom or tinfoil for a knight's armor. Candy's the currency of the world, with which you'll upgrade abilities.
The game reminds me a bit of the PowerPuff Girls in its visual style. I especially loved the Combat Mode when I saw it, where the look becomes quasi-realistic because that's how the kids are imagining their showdowns.
Double Fine typifies a certain kind of success for mid-sized game development studios, where simply staying in business in a volatile market isn't their only victory. They've also been able to seed their games through multiple publishers–Majesco for the classic PS2 game "Psychonauts," EA for "Brutal Legend" and THQ for Costume Quest–while maintaining a recognizable voice and feel all throughout.
"Costume Quest" will be hitting consoles on October 15th, with new content scheduled to be available on Halloween.