The Doc Days of Summer: "Hugh Hefner: Playboy, Activist and Rebel"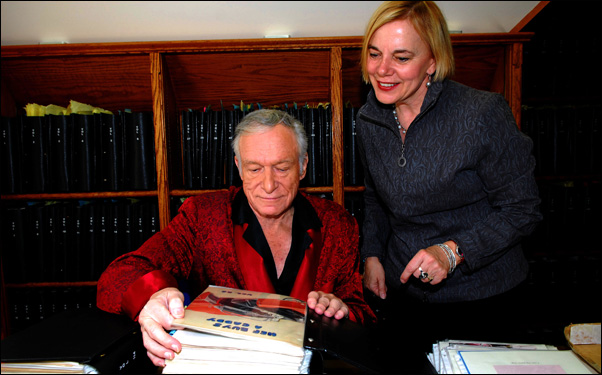 Posted by Stephen Saito on
Before I could ask Brigitte Berman about the mixed reception that her new documentary about Playboy founder Hugh Hefner has received, she wanted to make one thing clear: "You cannot do a valentine piece. You must not. If you do, you discredit everything."
For some, Hefner will never receive much credit, but that is exactly what Berman attempts to rectify in "Hugh Hefner: Playboy, Activist and Rebel," a leisurely biography that's very much like his glossy magazine: an easy sell because of the busty bombshells found within its pages, but just as seductive for its willingness to inject itself into the politics and culture of the era.
Alongside the centerfolds, Berman offers up a different definition of T & A in regards to Hefner, chronicling his tenacity and ambition as an innovator of cross-platform media, a savvy tastemaker, and a champion of the First Amendment who used his many outlets in print and on television ("Playboy's Penthouse") to break down racial and sexual taboos.
Yet as critics have attacked the film for being too deferential, Berman finds herself in a situation not unlike the one her subject has endured for nearly 60 years. "It's very interesting what's happening because people either like or really dislike Hefner and now when they are looking at the film, the dislike of Hefner is totally translated on the film," said Berman. "They only see and hear what they want to see and hear."
Berman has had quite some time to observe Hefner personally, ever since the noted jazz devotee requested to see her 1981 documentary on the '20s musician (and one of his personal favorites) Bix Beiderbecke at the Playboy Mansion. The two forged a quick bond over the music and their personal friendship would become professional when Hefner ultimately released "BIX: ain't none of them play like him yet" on his Playboy Jazz Video label. He helped Berman out of the 13 years of legal wrangling over her Oscar-winning 1985 doc on Artie Shaw (who Hefner deadpanned at last year's Toronto Film Festival, "was a wonderful musician, but…," trailing off to laughs from the crowd).
Still, it wouldn't be until 2006 when Berman attended Hefner's 80th birthday party that she realized she should make a film about him, since the decadent gala full of nude women covered in body paint, celebrity guests and a breathy Paris Hilton rendition of "Happy Birthday" was, in her words, "just the Playboy that most people knew." After getting a one-page fax giving her carte blanche to Hefner's time and his voluminous archives, Berman set off on a three-and-a-half year journey, collecting interviews with no less an eclectic crowd than Pat Boone, George Lucas, feminist Susan Brownmiller, Rev. Jesse Jackson, Mike Wallace and others to talk about Hefner's legacy for better or worse. (Berman has made a point of mentioning Gloria Steinem declined repeated invitations to be interviewed.)
"I was not a friend of Hugh Hefner who was going to do a film about a friend," said Berman. "I became somebody else and I used everything I knew as a filmmaker. This was a true challenge because there was so much material, over 2000 scrapbooks to go through and read and that's to discover more and more interesting things about Hugh Hefner and the deeper and the more I saw, the deeper and more real my film became."
It also became very long. Berman's initial cut for "Playboy, Activist and Rebel" was seven-and-a-half hours, a version that gave the filmmaker the enviable problem of cropping lengthy, detailed anecdotes by the likes of Dick Gregory and Gene Simmons into manageable segments, but unfortunately meant some interviews with Hefner's children and Playmate Jo Collins, who went on a Vietnam humanitarian tour on behalf of Playboy, would have to hit the cutting room floor.
With the help of six close advisers, Berman eventually trimmed it down to a more traditional two-hour version that's still exhaustive in its scope, tracing Hefner from his early days idling time as an amateur cartoonist while working as a copy editor for Esquire to his later life in pajamas in the Holmby Hills.
And the irony of making a serious film that bridges the gap between the boyish crusader of the '60s and '70s with the captain's hat-wearing octogenarian better known these days for the bevy of blondes on his arm on "The Girls Next Door" wasn't lost on Berman.
"When you look at Playboy as a magazine, you see the 'Girls Next Door' part of it reflected, you see my side reflected in the magazine," said Berman. "It's all there in Mr. Hefner and it's what makes him an incredibly complex and interesting person. You see the pictures of all the girls in my film. But at the same time, there is that side of the person who dared to stick his neck out in ways that few people do in America."
"Hugh Hefner: Playboy, Activist and Rebel" is now open in New York, Los Angeles and Wasthington D.C. before expanding into limited release on August 6th.