Disc Covering: The Lost Skeleton Returns Again in "The Lost Skeleton Returns Again"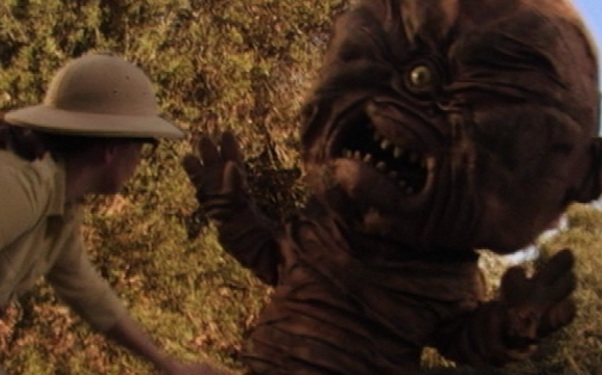 Posted by Matt Singer on
No! Nobody ever made them like this! I mean the architect had to be a certified genius or an authentic wacko!" — Dr. Ray Stanz, "Ghostbusters"
You'd have to be a certified genius, or maybe an authentic wacko, to make a movie poorly on purpose. But that's what Larry Blamire did when he made "The Lost Skeleton of Cadavra" in 2001. He paid homage to the legendarily bad films of Edward D. Wood Jr. by mimicking their style and tone, from the horrific screenplay ("As a scientist I just wish I could appreciate more things like cabins…") to the equally atrocious acting ("Even when I was a child, I was hated by skeletons!") to the super low grade special effects. (Know why the alien spaceship looks like it was made out of a toilet paper roll? Because it was made out of a toilet paper roll.)
The general rule of bad movies is they're only funny when they're accidentally bad. Yes, "Plan 9″'s hubcap spaceships and cardboard gravestones are cute. But even with a bigger budget, Ed Wood's movies would have looked pretty much the same. Money can't fix a tin ear for dialogue or a tin, uh, eye for camera placement. And that's why we love Wood's movies. They weren't produced by the studio assembly line and test marketed into homogenous pap. They were one weird guy's personal statement. They're authentic. They're sincere.
It should be impossible to authentically replicate authenticity. When lesser filmmakers have attempted to imitate Wood's style they come off as mean instead of funny — his movies are so bad, they're too easy a target. Which made Blamire's accomplishment with "Lost Skeleton" all the more impressive; he didn't make a parody of a bad movie, he simply made a bad movie. It looked, sounded, and felt like the real deal. If you stumbled on "The Lost Skeleton of Cadavra" on late night cable and had no idea what it was, you would have to assume it was the genuine article.
And maybe that's why "The Lost Skeleton" hasn't become the full-fledged cult object it deserves to be. It's almost too authentic to be entertaining. But now there is a new film, "The Lost Skeleton Returns Again." Was Blamire crazy enough (or brilliant enough) to achieve quixotic greatness twice in a row?
The Lost Skeleton Returns Again
Directed by Larry Blamire
Tagline: "So Terrifying You'll Wish It Were Only a Movie!"

Tweetable Plot Synopsis: Sequel to a film that paid homage to '50s Z-grade horror by being intentionally bad. Better FX this time; you can't see most of the strings.
Salable Elements: Not much beyond the fact that it is a sequel to "The Lost Skeleton," though that's no guarantee of butts in seats either; the first film grossed only $143,000 in theatrical release according to Box Office Mojo.
Biggest Success: Blamire is a talented guy, but there's one thing he's better at than every other writer and director in history: creating silly character names. They're something of a directorial signature at this point: if a film features "Handscomb Draile" and "Gondreau Slykes" and "Reet Pappin" and "Dr. Ellamy Royne," it's a pretty good bet Blamire is involved.
Biggest Failure: It's weird to complain that any movie looks too good. But "The Lost Skeleton Returns Again"'s 2.35:1 aspect ratio, dramatic widescreen vistas, and improved shot composition don't match its goofy tone or brain-dead characters (the original film was in 1.85:1). On the "Returns Again" commentary track, Blamire says that while the first film was his ode to Ed Wood-style clunker, this time he was trying to recreate "a Saturday matinee thing." And the plot, which involves the hunt for a rare element through South American jungles filled with horrible monsters, mutants, and Cantaloupe People, does resemble something from an old Republic serial.
I suppose in that context, the visuals do seem a bit less out of place. But if that's what Blamire really wanted to do, he probably should have scrapped the Skeleton and company and invented a whole new mythos. Bringing back everyone from "The Lost Skeleton" — who all continue to behave as if they're in a terrible Z-grade horror movie — confuses things. The look is from one kind of movie, and the sound is from another. "The Lost Skeleton Returns Again" is still funny — technically, it has way more jokes than the original, and plenty of them are damn good — but the silliness come with a wink. No one will ever mistake this movie for the genuine article.
Best Moment: My favorite character in both films remains The Lost Skeleton himself, a fiendish, dickish psychic skeleton with mind-control powers. The Lost Skeleton is the villain of both films, but he's also the most likable character since he's the only one aware that everyone in the story is a total idiot. Of course, it's hard to control the minds of the mindless, as when he tries to get Animala (Jennifer Blaire) to pick him up and carry him around and she picks up a stick and a rock and a leaf instead ("Ignorant fool! Animala you are stupid!"). That leaves the Lost Skeleton eternally peeved, voiced with perfect haughty exasperation by Blamire himself.
Special Features: include the aforementioned commentary and a ten minute "making of," mostly comprised of snarky interviews with the film's cast.
Worthy of a Theatrical Release? It pains me to say it, but no. "The Lost Skeleton Returns Again" is a decent sequel, but it doesn't recapture the alchemical magic of the original. The first "Lost Skeleton" was so deadpan it was practically cadaverish (or maybe Cadavra-ish). The second is much more outwardly (and less satisfyingly) silly. Blamire is working with house money here — same terrific cast, same endearingly dopey characters — but at best this is a break-even proposition. No craziness, no genius. Just competence.
For Further Viewing: relive the classic with this compilation of greatest hits from "Plan 9 From Outer Space." See you next week. I sleep now.