Disc Covering: "The Dungeon Masters," Fending Off Imaginary Dragons and Inner Demons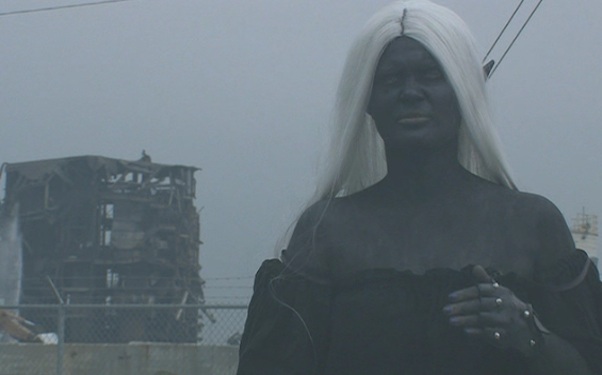 Posted by Matt Singer on
I'm the nerdiest guy I know, and Dungeons & Dragons is too nerdy for me. I once tried it with some friends on a camp trip and it didn't take; after about a half hour we gave up and went back to quoting "Mystery Science Theater 3000." But for some, D&D is everything, and certainly as a guy with nerdy proclivities, I can relate to that obsession. So I was curious about Keven McAlester's "The Dungeon Masters," a documentary about at trio of D&D game masters and the ways in which their real lives reflect their game lives and vice versa. Did the film, which played the 2008 Toronto Film Festival, deserve wider acclaim and a larger release? Let's find out.
The Dungeon Masters
Directed by Keven McAlester
Tagline:"3 People. 1 Obsession. See What Happens When Fantasy Life Meets Real Life."

Tweetable Plot Synopsis: Three gaming nerds share their love of Dungeons & Dragons and their struggle with the harsh reality of their lives.
Biggest Success: It's really easy to gawk at geeks; it's much harder, and a lot more satisfying, when you can get an audience to relate to obsessives. For the most part, "The Dungeon Masters" does that. I say for the most part because there are a few jokes at the expense of its three protagonists, particularly eternally put-upon apartment building manager and aspiring fantasy author Scott Corum. "Dungeon Masters" begins with a series of close-ups of Corum putting on his medieval armor while sharing, in voiceover, thoughts about D&D and character building; as a punchline, his philosophical speech is immediately followed by the question "Is there even a vague chance of like stopping by a McDonald's?" We only hear his speech and don't see it, which, regardless of whether it was or not, makes it feel like a cheap joke created in the editing room.
Most of the film, though, strives for empathy over mockery. Game master Richard Meeks is such an outlandish character, you couldn't write him into a fictional story; he would be considered too unbelievable. Amongst other things, he's a Dungeons & Dragons enthusiast, a nudist, a convert to Judiasm, and a military man. And yet, despite all these highly mockable traits, the movie treats him with a kind and curious eye rather than a sarcastic one. He's not a joke; he's a person, as screwy and as flawed as the rest of us. And that's ultimately why we watch a movie like "The Dungeon Masters": not to laugh at weirdos, but to see the common ground we all share.
Biggest Failure: "The Dungeon Masters" teaches us that D&D campaigns can go on for a decade or more in the hands a dedicated game master; Corum says that RPGs are about the journey and the experience rather than the destination and the outcome. True to that ethos, "The Dungeon Masters" really doesn't tell a complete narrative. Instead it presents three overlapping chapters of three larger lives and stories. But movies are not role-playing games and the documentary's structure, following its three protagonists over the course of a year between trips to Dungeons & Dragons' annual GenCon convention, isn't much of a journey.
McAlester divides his film into five chapters which alternate between the three subjects. Some have ongoing storylines, like Corum trying to publish his first novel and create a public access TV show, but there's a certain aimlessness to "The Dungeon Masters." There's an ironic comment buried here about these men and women's inability to apply their skills as game masters, where they have to give purpose and direction to others, to their own lives. It's a fair point, but it doesn't make us any more concerned about them as characters. We're interested, but not necessary invested.
I Like: the way real life in "The Dungeon Masters" often imitates D&D. In the subplot about Corum's novel, things seem to be progressing along a certain trajectory throughout the entire film until the climactic chapter when, without warning, there's a drastic and dramatic reversal (I'm being intentionally vague to avoid spoilers). It's as if he's trapped in a game designed by Meeks, who loves to invent sadistic worlds full of sudden twists and cruel pitfalls.
Worthy of a Theatrical Release? Not quite; the scope of the film isn't nearly as epic as its subjects' imaginations. "The Dungeon Masters" is about a small but dedicated subculture, and probably the best the film can hope for is a small but dedicated DVD following. But it's a good rental for interested parties. I'd be particularly curious to see how D&D lovers react to it, and whether they would find it representative or exploitative of their world. If you know someone who's into gaming, I'd recommend watching it with them just as soon as they come home from GenCon 2010, which takes place this upcoming weekend in Indianapolis.
For Further Viewing: A helpful guide to spotting dice cheaters in your Dungeons & Dragons game. Hint: if someone is rolling a seven or an eleven every single time they roll, they might be cheating.