Disc Covering: "Cornered!" In a Convenience Store With Steve Guttenberg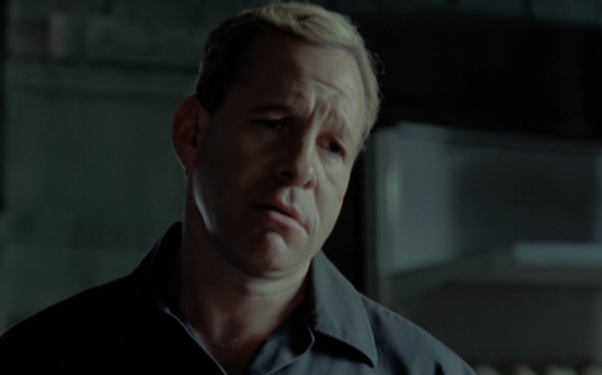 Posted by Matt Singer on
It only took four words to convince me to watch "Cornered!": "Steve Guttenberg" and "slasher movie" (hopefully it takes more than four words to convince you, otherwise you stopped reading 15 words ago). As a child of the 1980s, I got to see Guttenberg — or "The Goot" as he likes to call himself — do many things: hang out with a wacky talking robot, get into trouble at a police academy, invent the Village People, get into more trouble at a police academy, help aliens find their buddies, and get into less trouble at a police academy. What I didn't get to see was him in a slasher film about a bloodthirsty psychopath who likes to dress like a leather daddy.
Today, we correct that omission.
Cornered!
Directed by Daniel Maze
Tagline: Face the Evil
Tweetable Plot Synopsis: A cast of misfits gets trapped in a convenience store at the worst possible time: right when "The Convenience Store Killer" is on the loose.
Salable Elements: "Steve Guttenberg" "slasher movie" "leather fetishist." Why haven't you added this to your Netflix queue yet?
Biggest Success: A convenience store is a good choice of location for a survival horror movie. We all know them, we've all had terrible experiences there, and they present lots of opportunities for quirky, location-specific death scenes: the film makes good use, for instance, of the store's ice cream freezer and its pointy, conic contents. Mind you, "Cornered!" does miss some opportunities: after the initial death by dairy, "The Convenience Store Killer" mostly sticks to cutting people with sharp stuff like stable saws or knives. Where's the creativity? In my day, slasher killers took more pride in their work. A death by toxic convenience store bathroom odor should have been a no-brainer.
Biggest Failure: I'm learning quickly that in DTV land, top billing does not necessarily equal main character. Here, Steve Guttenberg is the headliner, but he's only onscreen for about five minutes in the beginning of the movie and about ten minutes at the end. Not exactly false advertising of Zaneian proportions, but not nearly as much Goot as promised.
Best Moment: Few things in this world fill me with as much pleasure as cheesy movie one-liners. Watching Steve Guttenberg say, "Clean up on aisle three!" in a convenience store slasher film was the best part of my week. But, again, that opens the door to so many untapped possibilities. "What about "These prices are about to get slashed!"? What about "And two cents is your change…and here's my two cents: you're gonna die!"? What about "Thank you, come again!"?
I Question… the story mechanics required to keep these people trapped inside this convenience store with the killer. A lot is made of the fact that the cast plans to spend the night locked inside this store, helping someone detox from heroin. But if they can't get out, how does the slasher get in? And why do several characters who know they're trapped buy the theory another guy floats that the first victim who vanishes simply got in a cab and left without saying goodbye? Because they're morons, obviously.
Setting a horror film in a convenience store is a clever, fun idea, but it presents all kinds of logistical problems. It's a tiny place, covered by half a dozen security cameras, but somehow a giant man in a leather mask manages to hide inside it for a half-hour without being spotted or noticed. While the rest of the characters are upstairs playing poker, he waits in the store and picks them off one by one as they come downstairs looking for snacks or a nice spot to get their head caught in something. How does no one hear someone getting bludgeoned to death right below them? How do they not see it on the cameras that are filming the entire store? Because they're morons, obviously. "Cornered!"'s commitment to its utterly implausible reality is so absolutely complete, it's almost Orwellian. But too many distracting questions can be doubleplusungood for this kind of movie.
Special Features… consist of a 15-minute behind the scenes featurette. If you want to hear The Goot explain why he wanted the role of Monty the Delivery Boy while trying his hardest not to pull a Steven Slater, this is the place to do it.
Worthy of a Theatrical Release? No, though I've seen worse straight-to-video horror movies. The whole trapped-in-a-store premise is so illogical that the filmmakers should have abandoned their pretense of actual suspense and followed their "Clean up on aisle two!" instincts into full-on camp mode. Still, at the very least, "Cornered!" has ensured that from now on when you type the words "Steve Guttenberg" and "horror film" into Google, your first result won't be his Village People biopic "Can't Stop the Music."
For Further Reading… enjoy the New York Observer's fascinating 2008 profile of The Goot. My favorite part is when he puts a borderline delusional positive spin on his career struggles. "You know, I'm an artist. I paint when I want to paint."