Desperately Seeking Susan: Get Into the Groove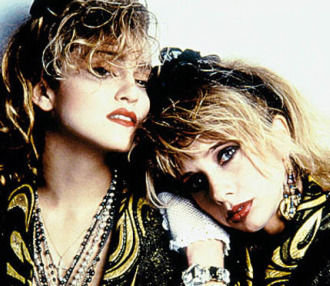 Posted by Melissa Locker on
In some ways, Desperately Seeking Susan is a chick flick. It stars Rosanna Arquette as Roberta, the unfulfilled wife of the self-proclaimed Hot Tub King of New Jersey. Today, her life as a wistful pampered suburban wife would have gotten her cast on Bravo, but in the innocent halcyon pre-reality television days of the 1980s it meant following a stranger's life via the personals and getting a knock on the head for her trouble. The resulting amnesia leads Roberta on a wild ride through the seedy bowels of Manhattan and into the arms of Dez played by Aidan Quinn, back when he was dark and brooding.
At the height of her rise to fame and in her first movie role, Madonna stars as Susan, the focus of Roberta's obsessions. It was one of Susan's several boho boyfriends that stole the Egyptian earrings that kicked off the whole mis-adventure. She hides out in New Jersey ostensibly to help Roberta's husband track his missing wife and the plot just gets sillier from there. Yes, the plot is clearly farcical what with the amnesiac housewife, stolen Egyptian earrings, mistaken identities, and the Hot Tub King of New Jersey, but it doesn't really matter compared to what else the film has to offer. Namely, Manhattan and music.
The uncredited co-star of the film is Manhattan in the mid-80s. From the seedy Harlem magic club to Dez's Bowery loft above an art house movie theater to Richard Hell's cameo to the scenes filmed at Danceteria, the movie is an incredible tour of bohemian Manhattan in all its graffitied glory. Madonna got her start in this scene and in some ways this movie is an homage to that humble beginning.
The other star of the film is the music. The film was made just as Madonna was rising into super stardom. She had just scored huge hits with "Like a Virgin" and "Material Girl" and this film cemented her star status. The ironic thing is that despite being featured during the movie, her smash hit "Into the Groove" didn't even appear on the soundtrack for the movie. Nor did Iggy Pop's "Lust for Life" or Run D.MC.'s "Sucka MCs", songs which are among the seminal songs of the era and were featured in the film.
The video for "Into the Groove" was made after the success of the movie and was compiled of clips from the film. Watch and enjoy and then watch and enjoy Desperately Seeking Susan on IFC at 9:05 p.m. ET:
"Into the Groove" also spawned a bunch of inspired covers, including this one "Into the Groove-y" from Ciccone Youth (a.k.a. Sonic Youth and Mike Watt):