Álex de la Iglesia Puzzles Over "The Oxford Murders"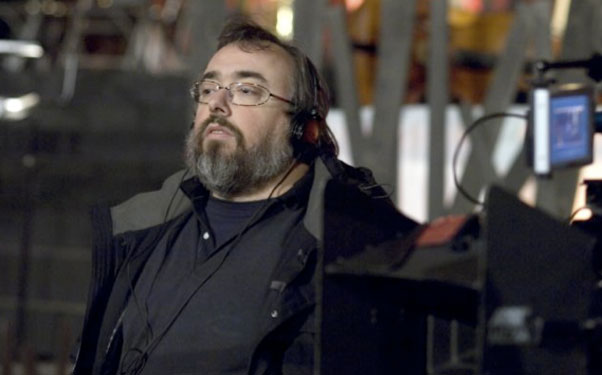 Posted by Stephen Saito on
This interview originally ran in June 2009.
Álex de la Iglesia always has to be the odd man out. At the American Cinematheque's Recent Spanish Cinema series last year, de la Iglesia's thriller "The Oxford Murders" was the lone English-language film shown, serving as a linguistic break from Goya winners like Jose Luis Cuerda's "The Blind Sunflowers" and Agustín Díaz Yanes' "Just Walking."
The film's also a departure from the wild comedies de la Iglesia has become known for, like the cutthroat salesman competition comedy "El Crimen Ferpecto" and the theme park-set spaghetti western "800 Bullets." (If you haven't seen either, we won't be offended if you run out to rent them now.)
Thanks to the questionable state of "Oxford"'s one-time American distributor ThinkFilm, the screening was a rare opportunity to see the Elijah Wood-John Hurt thriller on a U.S. big screen — up until now. And while reaction from parts of the world where the film did get a theatrical release was mixed, "The Oxford Murders" is an undeniable reaffirmation of de la Iglesia's status as one of the world's most inventive filmmakers, both visually (exemplified by a particularly breathtaking tracking shot of the streets of London) and as a storyteller (demonstrated by his application of philosophy to Guillermo Martínez's literally by-the-numbers tale of a professor and a student who go after a serial killer guided by mathematics).
During his excursion in Los Angeles, I sat down with de la Iglesia to talk about this film and his next ("The Yellow M"), philosophy and dismembering fellow director Alex Cox.
How did you become interested in adapting Guillermo Martínez's book for the screen?
It's strange because at the beginning, I read a bad review in a Spanish newspaper, so I remembered thinking, "Maybe it's a good novel." [laughs] And I read it and my first idea was it's impossible to make a movie with this novel because it's only mental, there's no action. Everything happens in the brain. Maybe one year later, Gerardo [Herrero], my producer, called me and told me, "I read the novel, I loved the novel, I bought the novel. It's the Guillermo Martinez novel. What do you think?"
And suddenly I felt that this was a challenge for me. How can I tell the story visually? It was a real exciting exercise for me and an English movie with English actors — it was like an exam. [laughs] Can I do it in a real way? Can I make a British movie? I enjoyed doing it and I think the results are really positive.
This film is also a departure from the dark comedies you've made with a far more serious tone and a darker color palate. Did that make it more challenging?
That was my idea, to make something different. I don't like the filmmakers who become [set in their ways]. I really wanted to do something different, but when you see the movie, suddenly you feel that it's not so different than the other ones. The plot [of "The Oxford Murders"] is very similar to "800 Bullets." You have a child that suddenly goes to a strange place, trying to find his father, and his grandfather helps him, trying to find his own past.
In "The Oxford Murders," it's the same thing: a young guy goes to London, a strange place like [the theme park] in "800 Bullets," and in this place finds some kind of master, some kind of Gandalf, who helps him and trains him to know something about life. It's really similar.
Since "The Oxford Murders" takes place on a college campus, it seems like you were finally able to make use of your degree in philosophy, which is particularly evident in the opening scene where Elijah Wood's character Martin confronts John Hurt's professor Arthur Seldom over Ludwig Wittgenstein's philosophy of mathematics and language. Was that also part of the film's appeal?
Well, in the script, we changed mathematics for philosophy, so [the characters] are talking about philosophers. In the novel, Guillermo talks about Wittgenstein, but we wanted to make the part bigger because for me, he's the great thinker. I remember studying philosophy and not understanding anything about [Wittgenstein's sole book] "Tractatus." I read it when I was 18 years old. And Wittgenstein worked on "Tractatus" when he was in the first World War, not in the middle of battle, but in the trenches.
So Wittgenstein is perfect to understand the plot in the story [about the imprecision of applying logic to reality], as is [German theoretical physicist Werner] Heisenberg. Heisenberg says that it's impossible to understand a phenomenon because when you study the phenomenon, you change the object, the position, the way the electrons work. So it's like Elijah's character. [SPOILER AHEAD!] [By his mere presence,] Elijah changed the phenomenon, changed the murders. Not only changed, but provokes the murders, so he's a killer because he's trying to study, trying to know what happened in this house with his grandmother and his sister. It's so beautiful.
I love your films for your appreciation of the macabre, but I also worry that you spend much of your time thinking about plotting out the perfect murder after seeing films like "El Crimen Ferpecto" and "La Comunidad." Why is it a recurring theme?
I love murders. [laughs] I love murder and mystery movies. It's a beautiful genre for me. I love the whodunit movies, trying to find out who is the killer?
Obviously, you also love Alex Cox [the director of "Sid and Nancy" and "Repo Man"], who has appeared in both of your English-language films. [In "Oxford Murders," he plays a researcher who goes insane and attempts his own lobotomy.] How did you meet?
I met Alex Cox in Mexico. He was working on "Fear and Loathing in Las Vegas," because he was the first filmmaker [around 1997] and suddenly he lost the project. Alex was very excited about this movie and we were friends. I love his work. I think he's one of the best filmmakers and it's a shame because Alex is not working in the way I love to see. I would like to see more movies from Alex Cox.
[I wanted him in "Oxford" because] it's like another "Perdita Durango" [de la Iglesia's first English-language film], so I work with Alex Cox because I love Alex Cox.
Did you enjoy cutting his legs off in the film?
Yeah, it's so beautiful, huh? I remember people said to me during the movie, "you don't [want to] cover the body with the sheet?" And I say, "No, no, naked, naked! I want to see the body!" [laughs]
"The Oxford Murders" opens in select theaters on August 6th, and is available on VOD.