Clip Analysis: "Enslaved: Odyssey to the West"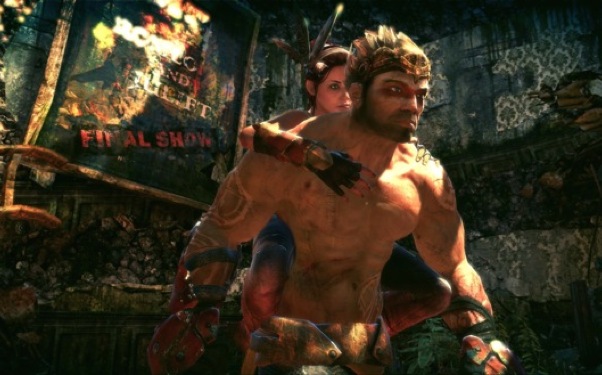 Posted by Evan Narcisse on
Video game teasers tend to stick to a certain formula: dazzle the viewer with awesome graphics, show off some of the games' abilities and maybe dribble a little story out to tantalize would-be players. But every so often, one piece of video-centric marketing will float above the rest or sink to join the sludge.
In Clip Analysis, I'll be looking at trailers, teasers and just about any game-related video in an effort to call out what works and what doesn't in terms of communicating a particular game's coolness.
This time, I'll be taking a look at the trailer for "Enslaved: Odyssey to the West."
Original ideas always represent big risks in entertainment. Even if something is cheap to produce, the question of whether an audience will follow a creator can be an expensive one, if only in emotional cost; hence, the tendency to stitch familiar tropes together with a few more outré elements. It's a tricky alchemy and can be fascinating to watch.
Due out in the fall, the Namco Bandai release "Enslaved: Odyssey to the West" promises to be one of those games where a little bit of new gets folded it in design concepts that audiences are already familiar with. The game re-imagines the Chinese epic novel "Journey to the West," which concerns itself with the mythical Monkey King's quest to rescue Buddhist sutras from India. It's a very loose interpretation, though, as it takes place on a post-apocalyptic Earth after centuries of war. Storywise, the familiar elements are the headband that forces obedience, the telescoping combat staff and the main character's name of Monkey from Journey to the West. The two main characters of "Enslaved" are Trip, a female tech whiz and a surly brawler named Monkey. The pair get randomly thrown together escaping from a slave ship and Trip commandeers Monkey's free will with a pain-inducing headband that essentially forces him to do her bidding. All she wants to do is get home but she's doing it by taking away another person's right to do what he wants.
I saw a demo of "Enslaved" some weeks ago and was excited when trailers for the game started to roll out. How would Namco Bandai present a game with so much going on?
• The weirdest thing about this clip to me is that it doesn't avail itself of "Enslaved"'s main selling point: the performances. The game's got incredible digital acting, directed by Andy Serkis (who played Gollum in "The Lord of the Rings" movies). Serkis has been doing serious work in the area of performance capture processes, which digitally encode the vocal and physical interaction between players. He and "Enslaved" developer Ninja Theory collaborated on "Heavenly Sword," a PS3 launch game that also featured very expressive animation and vocework. None of this gets outed in the clip, though. I have to think that people would be interested in such behind-the-curtain stuff.
• The other thing that Enslaved has going for it is the fractious relationship between its two leads. A game where one character takes away another's freedom, after both were slaves? That's a morally slippery slope and territory that's rarely trod in games. Of course, you can guess that they'll grow into some sort of affection for each other, but setting up the initial wrongness of their partnership makes the journey there more interesting. Tell us that. Show us that.
• What the clip does show off is the symbiotic relationship between the player-controlled Monkey and the AI partner Trip. This isn't a new concept but the differences between the characters are marked and interestingly presented. This isn't a pairing of two physically commensurate bad-asses; getting through some of the challenges will mean more than "cover me while I shoot."
• Another thing that sparkles in the trailer is the art design for both characters and the world they inhabit. Sci-fi design is a tricky thing, especially when it comes to envisioning a post-apocalyptic world. The Booklyn Bridge looks like the Brooklyn Bridge, but one from an entirely effed-up reality. Things needs to seem familiar but fatigued and the design shown off in "Enslaved" seems to dodge the clichés that abound in this kind of sci-fi.
"Enslaved: Odyssey to the West" comes out this October for PS3 and Xbox 360.