"The sweetest, most gentle demented stalker film ever made": "Chuck & Buck" Turns Ten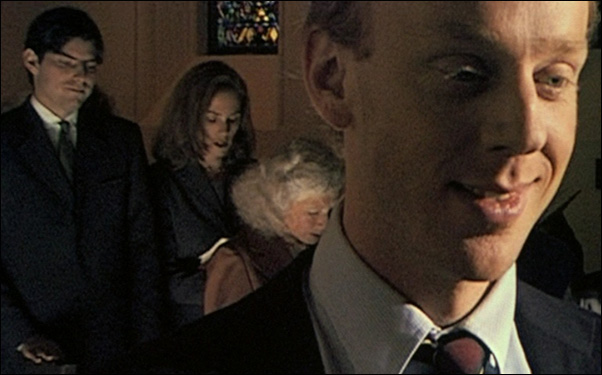 Posted by Stephen Saito on
It's always seems like something of a miracle that Mike White's pitch-black comedy "Chuck & Buck" exists, but there was extra reason for celebration over the weekend as the film celebrated its tenth anniversary at the Cinefamily in Los Angeles. With cases of Stella Artois and Corona tucked under his arms, director Miguel Arteta handed out bottles to friends from the cast and crew like a proud father.
"That is definitely the sweetest, most gentle demented stalker film ever made," said Cinefamily owner Hadrian Belove, who, in spite of planning the screening, still seemed surprised when he looked to his left after the film ended. "There are so many people here I don't even know where to start."
Sitting beside him was star/writer White, Arteta, co-stars Lupe Ontiveros and Paul and Chris Weitz, and producer Matthew Greenfield, an impressive enough group even without those who got their starts on the film like a pre-"SNL" Maya Rudolph and "Zombieland" director Ruben Fleischer, who was Arteta's assistant at the time. (Heck, "The Expendables"' Terry Crews worked security on the film, getting a big laugh from the audience when his name appeared in the credits.)
Since "Chuck & Buck" came out to considerable acclaim and each of its filmmakers has made their own mark in the years since its release, it's easy to forget what a risky and daring film it was at the time. White recounted how he was irritated by films of the era that had a "nostalgia for childhood" when he felt "kids are also a little twisted." The result was the story of a social misfit named Buck (White) who becomes fixated on his childhood friend Chuck (Chris Weitz) after his mother's death, their games as children far less innocent than hide-and-seek, and follows Chuck out to Los Angeles where he recreates their youth with a disturbing play.
"I asked [White] why he wanted me to do it and he said, 'well, you seem a little bit down, a little crazy,'" Arteta recalled when his Weselyan pal handed him the screenplay when he was struggling to direct his first film. "'You might be able to relate.'"
Of course, the audience tittered when Arteta mentioned this since "Chuck & Buck" remains, on its surface, a largely inscrutable coming-of-age story, yet it "haunted" Arteta, who spoke of how he backed out of his promise to make the film, only to decide two years later after having an operation he needed to keep his word.
"I had a fever and all night long, I didn't sleep, thinking about Buck," said Arteta. "I woke up and I told Matthew [Greenfield], "You know what? Fuck it. Don't think about making any other movies. It's got to be 'Chuck & Buck.'"
After what he called a "challenging experience" on what would be Arteta's first feature (1997's "Star Maps"), Greenfield said the duo wanted to make a film with friends, which led to casting the Weitzes, who were on the verge of becoming A-List writer/directors with "American Pie," as Buck's old and new pals in Los Angeles. Chris recalled accepting the role without actually reading the script, specifically that he left a message on Arteta's voicemail that joked, "As long as it doesn't involve anal sex, I'm your man."
"Then I got to page 72 [of the script]," he deadpanned. "I had a feverish night [too] where I thought I don't know if I can do this and I thought well, you're such a pinko lefty and now you're finally faced with living up to your convictions."
Ontiveros also signed on without reading the script, as soon as Arteta told her she would be playing a character named Beverly, which clearly wasn't the "stereotype shit for Latino women" she was used to.
She reveled in telling the story of how White called her in tears when she won a National Board of Review Award for best supporting actress in 2001, "an honest to goodness fucking award." And Paul Weitz shared how for the part of the dim bulb New Jerseyan actor Sam, he had Pompton Plains' very own Jason Biggs read the "Chuck and Buck" script for him, "just to get the cadence."
A decade on, Chris Weitz and Arteta both marveled at how the film held up, with Weitz commenting on Arteta's command of deep focus as he shot on video, and how "Chuck & Buck" is "like a horror movie, except it doesn't scare you. It just makes you deeply, deeply uncomfortable… but in kind of an enjoyable way."
White remembered that feeling from shortly after the film premiered at Sundance in 2000. Standing in a men's room in Los Angeles upon coming back from Park City, White recalled, "Some guy was in the urinal next to me, [and] he's like 'I feel really uncomfortable standing next to you.'" White paused. "And I think it was because he recognized me from the movie."