Christopher Walken Survives on "$5 a Day," Cassavetes With a "Machine Gun," and More New DVDs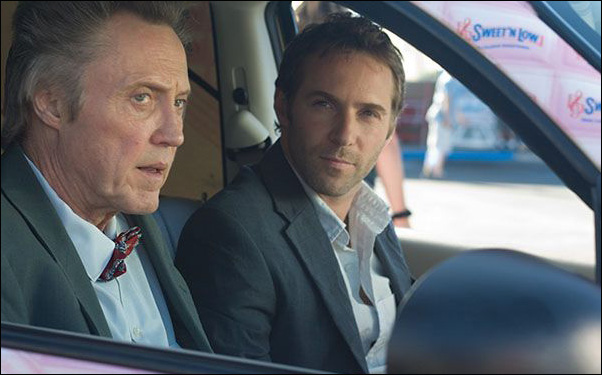 Posted by Stephen Saito on
A look at what's new on DVD today:
"$5 a Day" (2008)
Directed by Nigel Cole
Released by Image Entertainment
A refugee of the bankrupt Capitol Films, this dramedy starring Christopher Walken as a raconteur who claims he's able to live a full life on the titular Lincoln bill is finally seeing the light of day after premiering at the 2008 Toronto Film Festival. Alessandro Nivola co-stars as his son who drives him to New Mexico when he falls ill. Sharon Stone and Amanda Peet are along for the ride.
"2:22" (2008)
Directed by Phillip Guzman
Released by Inception Media Group
A quartet of thieves scheme to rob a boutique hotel on New Year's Eve, but find out that what's waiting for them on the inside is even colder than the snow-caked streets outside. Just as he did for his 2006 crime thriller "Played," star/co-writer Rossi called upon famous pals Gabriel Byrne and Val Kilmer for cameos as a detective and a crazed jeweler, respectively.
"Abandoned" (2009)
Directed by Michael Feifer
Released by Anchor Bay
In the next-to-last film completed before her death, Brittany Murphy stars as a woman suspected of losing her sanity when her boyfriend (Dean Cain) disappears during a hospital visit and she races against time to find him. Peter Bogdanovich co-stars as her psychiatrist. No, really.
"Addicted to Her Love" (2006)
Directed by Elliott Lester
Released by E1 Entertainment
Once called "Love is the Drug," Lizzy Caplan leads an ensemble cast in this drama about one Harvard-bound high schooler's entrance into a world of privileged teens whose alluring, excessive lifestyle may get in the way of his trip to Boston. "Nightmare on Elm Street" and "Cape Fear" remake artist Wesley Strick co-wrote the script.
"After the Revolution" (1990)
Directed by Andras Szirtes
Released by Facets Multimedia
Hungarian experimental filmmaker Szirtes takes a cat's eye view of the end of communism in this film about a novelist who relies on his feline companion for help with his latest book, with the cat's ideas communicated in Soviet propaganda films and POV footage filmed from the cat's perspective.
"The Age of Stupid" (2009)
Directed by Franny Armstrong
Released by New Video Group
Pete Postlethwaite plays the lone survivor on earth in 2055 in this narrative/documentary hybrid about the potential devastation the future holds as a result of climate change.
"Ajami" (2009)
Directed by Scandar Copti and Yaron Shani
Released by Kino Video
This year's Oscar-nominated Best Foreign Language Film entry from Israel concerns the contentious area of Jaffa where Jews, Muslims and Christians coexist, giving way to a multistranded narrative about two brothers trying to save their family after their uncle's mistake results in a virtual death sentence, a Palestinian man who tries to earn enough money to pay for his mother's operation, a cop searching for his missing brother, and a young couple whose differing ethnicities pose a roadblock to marriage. (A review roundup from Cannes, where it won a Camera d'Or.)
"Big Mess" (1970)
Directed by Alexander Kluge
Released by Facets Multimedia
New German Cinema maverick Kluge envisions a world where the Suez Canal Company reigns supreme as a giant corporation that reduces anyone not working for them to become pirates in this low-fi sci-fier that takes place in 2034.
"City Island" (2009)
Directed by Raymond De Felitta
Released by Anchor Bay
As a producer on the film and a father, Andy Garcia does right by his real-life daughter by casting her as part of the rambunctious Rizzo clan, but in playing the role of a prison guard patriarch who really wants to be an actor, he pretends his son from an old fling (Strait), a recent parolee, isn't a relation in front of the rest of his family, just one of the many lies that build to a crescendo in "Two Family House" director De Felitta's Tribeca Audience Award winner.
"Comeback" (2007)
Directed by Max Plettau
Released by Pathfinder Home Entertainment
A veteran of Silverdocs 2008, Plettau follows German heavyweight champ Jürgen "The Rock" Hartenstein as he attempts to revive his boxing career at the age of 35.
"Dorian Gray" (2009)
Directed by Oliver Parker
Released by National Entertainment Media
"An Ideal Husband" director Oliver Parker takes on another Oscar Wilde classic with a cast including "The Chronicles of Narnia"'s Ben Barnes as the titular character who never grows old while co-stars Colin Firth and Rebecca Hall wonder how he keeps he keeps his youthful looks.
"George A. Romero's Survival of the Dead" (2009)
Directed by George A. Romero
Released by Magnolia Pictures
No one raises the dead quite like George A. Romero who is returning for a sixth time to the zombie genre he created back in 1968 with "Night of the Living Dead" with this direct follow-up to 2007's "Diary of the Dead." Here, Romero drops in on Plum Island, Delaware where two families of opposing views on how to treat the undead (one is trigger-happy, the other is more pacifist) are forced to put aside their differences when zombies overtake their seaside abode.
"Group Sex" (2009)
Directed by Lawrence Trilling
Released by Monarch Home Entertainment
Longtime J.J. Abrams cohorts Greg Grunberg and Lawrence Trilling co-wrote this comedy starring Josh Cooke, Odette Yustman, Tom Arnold and Henry Winkler as members of a sex addiction support group.
"I Think We're Alone Now" (2008)
Directed by Sean Donnelly
Released by Awesome and Modest
Back in 2008, Alison Willmore wrote that this documentary about two obsessed fans of '80s pop star Tiffany "makes you squirm at its relationships with its subjects and its audience" when it played Fantastic Fest. Now, you can be the judge.
"Machine Gun McCain" (1969)
Directed by Giuliano Montaldo
Released by Blue Underground
Quentin Tarantino once showed this Italian-produced heist thriller as part of his QT Fest in Austin, acknowledging that the getaway plan for a casino robbery hatched by mobster John Cassavetes was one of the most cleverly devised ever on film. Gena Rowlands, Peter Falk and Britt Ekland co-star.'
"Practice of Love" (1984)
Directed by Valie Export
Released by Facets Multimedia
Viennese helmer Export directed this thriller about a journalist who stumbles into a weapons trafficking ring while investigating a murder that has ramifications for both her lovers.
"Seven Days" (2007)
Directed by Shin-yeon Won
Released by Virgil Films
"Lost" star Yunjin Kim gets a chance to speak in her native tongue for this Korean legal thriller in which she stars as a lawyer who is forced to defend a death row inmate in order to rescue her kidnapped daughter.
"The Square" (2010)
Directed by Nash Edgerton
Released by Sony Pictures Home Entertainment
Nash Edgerton's noirish first feature centers on a wife (van der Bloom) who schemes to run off with her lover and taking the pile of cash that her husband recently collected with her, but her plan to set her house ablaze to cover their tracks puts them both in the line of fire. (Our review and interview with director Nash Edgerton.)
"A Step Into the Darkness" (2009)
Directed by Atil Inac
Released by Vanguard Cinema
This Iraq-set drama centers on a woman (Suzan Genç) who survives an American attack on her village and journeys to her native Turkey to aid her sickly brother and gets caught up in an Islamic radical group.
"Titanic II" (2010)
Directed by Shane Van Dyke
Released by Asylum Home Entertainment
Bruce Davison and Brooke Burns cash in paychecks as part of the crew who think it would be a good idea to set sail on a ship called the "Titanic II," only to run into the same iceberg that wrecked the first Titanic a century earlier. Directed by Dick Van Dyke's grandson, this actually isn't a comedy.
"Who Killed Nancy" (2009)
Directed by Alan G. Parker
Released by Peach Arch
After over a hundred interviews with friends and family, Parker attempts to clear the name of Sex Pistol Sid Vicious in the murder case of his girlfriend Nancy Spungen in 1978, a crime that New York police quickly attributed to Vicious and sent shockwaves through the era's punk scene.
"Yoo-Hoo Mrs. Goldberg" (2009)
Directed by Aviva Kempner
Released by New Video Group
Kempner, who last directed the baseball doc "The Life and Times of Hank Greenberg," now tackles another story of Jews in U.S. popular culture, this time focusing on Gertrude Berg, the actress who became a radio pioneer and inspiration to millions as the creator/writer/star of the 1920s serial "The Goldbergs."
Also making their first appearance on Blu-ray: Neil Jordan's "The Long Good Friday" and "Mona Lisa," the 30th Anniversary Edition of "Shogun Assassin," Terry Gilliam's "Time Bandits" and "Withnail and I"