Revived and Derived: "Freaks and Geeks" Ep. 7, "Carded and Discarded"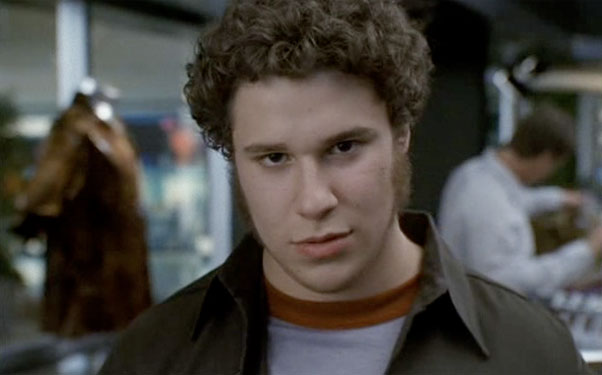 Posted by Alison Willmore on
"Freaks and Geeks" is now airing on IFC, and we thought we'd take this opportunity to revisit the show that launched a thousand bromance movies. Every week, Matt Singer and Alison Willmore will be offering their thoughts on that night's episode.
Episode 7: Carded and Discarded
Directed by Judd Apatow
Written by Judd Apatow and Paul Feig

Originally aired January 10, 2000
"I just want to be older so I can go to bars. Everything fun in this world happens at bars." –Ken
Alison: After six almost uniformly excellent episodes, we've at last arrived at one that I think is a little less successful — a pretty amazing ratio for a show, one well worth a salute. And this is not to say there aren't definite highlights to "Carded and Discarded," like the first set of IDs the freaks buy from guest star Jason Schwartzman ("Mine looks kinda Chinese"), the exchanges each of them has with the bouncer at the club, and the moment they realize the band they went through so much effort to see is an act they're already familiar with — that of their guidance councilor Mr. Rosso.
But overall, this episode does run broad, something particularly glaring given that it arrives on the tail of "I'm With the Band," which, as you pointed out, Matt, really showcases the show's uncompromising darker side. (During the original run, this episode came after a two month break during the holidays, so was probably intended to provide a low barrier to entry for hoped-for and sorely needed new viewers.)
It's the geek storyline that I find wan, though it's based around a great premise — what if you could intercept someone obviously destined for popularity before they gravitate to their natural place on the A-list? Would you be able to interact with them, "Breakfast Club"-style, free of the constraints of cafeteria politics? Unfortunately, Maureen Sampson (played by Kayla Ewell, who was part of the cast of the first season of "The Vampire Diaries") seems like a creature of pure fantasy, a geek in a cheerleader's body (not totally inconceivable) who seems utterly unaware of and untouched by typical high school social structure (say what?).
"Mean Girls" had Lindsay Lohan's character literally raised in the wild in order to explain away her innocence about school room hierarchies, but Maureen's left a mystery, just a function of the story — the geeks' dream girl, one who likes rockets and fart jokes and all-you-can-eat ribs but looks like a Barbie doll. And while it's nice to see the geeks get some female company, and to observe the indirect status bump they receive from just having someone like Maureen around, the storyline feels a little like cheating after the series' earlier established devotion to realism and to never taking the easy or expected way out.
Matt, do you think I'm being too hard on this episode? What do you think of it's overall explicit theme of social class, in high school, being unshakable? Just as Sam, Neal and Bill bid adieu with amusing finality to Maureen as she inevitably makes her way to the popular kids' table at lunch, Mr. Rosso tells Lindsay, holding her apart from the freaks, "You're not one of them — you're a different breed!" And what do you make of the especially heavy use of music montages?
Matt: You might be being a bit too hard, but your observations about the lighter tone of this episode are right on the money, as is your speculation that "Carded and Discarded" was designed that way to draw in new viewers. On the episode's DVD commentary, Paul Feig refers to "Carded and Discarded" as their "second pilot" and acknowledges that it is "a little breezier than our usual. Soul-crushing was at a minimum; hilarity was at a high."
Though I'm completely in agreement with your assessment of the geek's storyline and of the lack of complexity in the Maureen character, I think there's a redeeming element that you didn't mention: that despite the episode's relative lightness, the ending doesn't at all betray the spirit of the show. Maureen finds her rightful place amongst the popular kids and the freaks are denied their alcohol after working so hard to get their fake IDs. If the story beats are a little bit broader than normal, the outcome is still the same: failure and rejection. Even at its most mainstream, "Freaks and Geeks" is still a pretty bleak show.
You mention the music montages. There are two in "Carded and Discarded," both involving the geeks' communal dates with Maureen: one where they shoot off rockets in a parking lot to the sounds of Billy Joel's "Rosalinda's Eyes" and another where they eat barbecue ribs while Joel sings "Don't Ask Me Why." I can certainly see why a "Freaks and Geeks" fan might dismiss these sequences, since they represent an unusually sentimental device in an otherwise deeply cynical series.
I like them for purely selfish reasons: I'm a huge Billy Joel fan, and I love hearing his work on the show, particularly deep cuts like "Rosalinda's Eyes" that never get the recognition they deserve. The subject matter of the song doesn't necessarily match the geeks' rocketeering — it's basically about Joel as this down-on-his-luck musician scraping by on occasional gigs in a Latin band — but it does mesh nicely with the dreamlike slow-motion cinematography of the scene.
Plus, two lines of Joel's lyrics match Maureen's appeal to the geeks perfectly: "Hardly anyone has seen how good I am / But Rosalinda says she knows." The geeks like Maureen because she's pretty and friendly, but what they really respond to about her is the fact that she's pretty and friendly and makes fart jokes and thinks its funny when people lose appendages in shop class accidents. She appreciates them for who they are. Anyone who's been a high school outsider can relate to that sentiment.
Maybe the scene is too schmaltzy. But after six episodes of unrelenting despair, it's nice to luxuriate, however fleetingly, in a bit of happiness. After what the geeks have endured, and will continue to endure, they've earned it. Over on the freaks side of thing, Alison, what do you think of the cameos by Jason Schwartzman and Kevin Corrigan as two fake ID distributors?