Brutal Legend, Resident Evil 5 and Others Get De-Made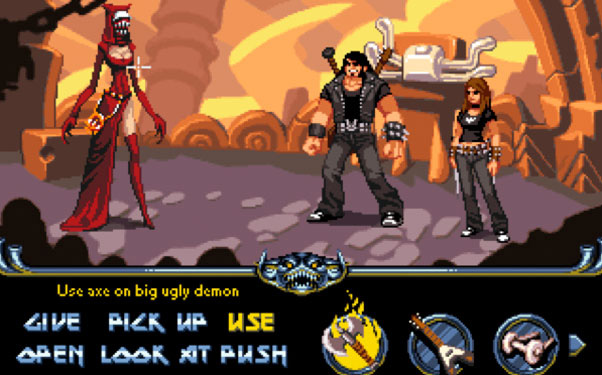 Posted by Evan Narcisse on
With re-imagined versions of "Total Recall," "Escape from New York" and "The Warriors" all in various stages of development, Hollywood shows no desire of ever overcoming Remake Fever. The video games medium may suffer a bad case of Sequelitis, but it's still too young — creatively, at least — to be strip-mining its past for ideas to dust off and present as new.
Still, there is a streak of retro mania that's been steadily increasing over the last five years or so. The Classic Gaming Expo just notched its eleventh successful year after a packed schedule of events in Las Vegas this past weekend. And retro game hunters do a brisk business on eBay with old Nintendo cartridges and Sega Dreamcast systems being treated as valued collectibles. And even when games like "Cave Story" get a new coat of polish, care is taken not to make them look to slick and shiny.
So, you may get a bit of cognitive whiplash when you gaze upon the work of one Junkboy. Mr. Boy is a digital artist who specializes in demakes, which take the games of today and render them in the graphical styles of yesteryear's hardware. The yellowish greytones of the first Gameboy screen, the top-down camera view and the cartoony pixels of so many old-school titles get lovingly invoked in his pieces, yet maintain enough of the modern-day vibe to make them seem familiar.
The digital art also makes you wonder if a little slice of imagination was lost in the transition from pixel to polygon. You can look at junkboy's what-if rendition of a Game Boy version of Dead Space and wonder "How would a game like have ever seemed scary back in the day?" Yet, you know it would have. A player's imagination would filled in the blanks to make the twitchy animations of the enemies in "Super Metroid" feel appropriately threatening.
The greatest thing about Junkboy's work has to be the element of surprise that it carries with it. You look at the pieces and squint, thinking "Wait, what is this … OHHH!!" Junkboy manages to get the shadowy Art Deco loneliness of "BioShock" or the construction-paper aesthetic of "LittleBigPlanet" just right. Stare at these pieces until the spark of recognition kicks in and then bask in the nostalgia of something that never existed.