Our 10 favorite reviews from Siskel, Ebert, Roeper, and "At the Movies"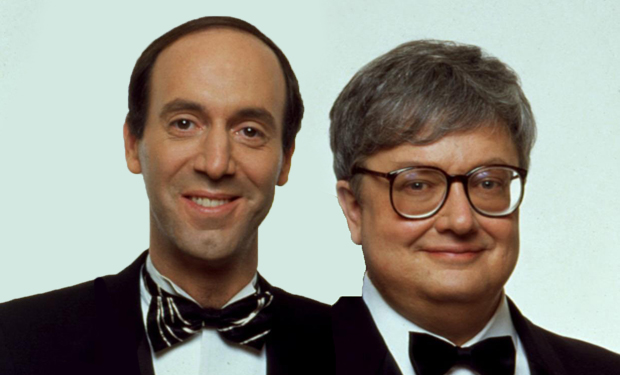 Posted by Matt Singer on
After more than 35 years on the air and hundreds of episodes, "At the Movies" — formerly "Ebert & Roeper," formerly "Roger Ebert & The Movies," formerly "Siskel & Ebert," formerly "At the Movies" again, formerly "Sneak Previews" — shot its final episode earlier this week for broadcast this weekend. In humble admiration for decades of outstanding work, we present our ten favorite reviews from the history of the show in no particular order.
"Cop and a Half" (1993)
Possibly one of the most infamous reviews of the Siskel & Ebert era, "Cop and a Half" was one of those delightful cases where the two not only profoundly disagreed about a film, but did so by speaking about it with far more intelligence and sincerity than its filmmakers ever likely intended. A lesser critic than Ebert would've been undermined by the images of precocious Norman D. Golden II firing a water pistol at Burt Reynolds' crotch flashing across the screen for this comedy about a kid joining the police force, but by the time Ebert surmises, "'Cop and a Half' is not any kind of masterpiece, but it's not dumb and it's not boring either," one is more willing to suspend their disbelief.
However, not Siskel, who waits patiently until Ebert finishes to deliver a perfectly contemptuous "Wow, where's your big red suit and beard, Santa?" Ebert wrote years later that Siskel never could get over the review, saying "One day the mail brought an autographed photo of Norman D. Golden II, the eight-year-old co-star of "Cop and a Half," thanking me for helping his career. I thought that was nice of the kid, until I recognized something familiar about his handwriting." (Ebert would get Siskel back in 1996 when he convinced Siskel to "twist his thumb" for the only time when Siskel rescinded his endorsement of "Broken Arrow.") [SS]
http://youtu.be/rzCVriUbVOk
"Hoop Dreams" (1994)
When you cover the Sundance Film Festival for television, your mandate goes something like this: stars, stars, stars. Stars bring in advertising dollars, stars headline the majority of the movies that find national distribution, and thus stars have the most relevance to a national audience. Highlighting a three-hour documentary with no name talent before it had even premiered at Sundance breaks every rule in the entertainment news book, which is why this very early review of Steve James' "Hoop Dreams" shows Siskel and Ebert at their advocate best. They were confident that "Hoop Dreams" was one of the best documentaries either of them had ever seen, and that was all that mattered. These men took their jobs as tastemakers very seriously, and when they felt strongly about a movie they didn't hesitate to say so. [MS]
"Kingpin" (1996)
Siskel and Ebert's early advocacy of "Do the Right Thing" and "Hoop Dreams," and later with Ebert's later efforts on behalf of films like "Monster," proved invaluable to their success, but they didn't limit themselves to championing "important" films. The Farrelly brothers found no bigger backers during the early part of their career than the "At the Movies" duo, who could barely contain their giddiness during a review of "Kingpin."
Although their professionalism prevented them from being completely reduced to trading punchlines like a couple of awestruck teenagers who had seen their favorite comedy for the 25th time, Siskel and Ebert come perilously close, with Siskel speaking directly in camera to the Farrellys to "thank them personally" for making him laugh so hard. "Kingpin," ultimately, wasn't a hit at the box office, but Siskel and Ebert's embrace of the film not only turned it into a cult hit, but has been said to have influenced the Farrellys to push the boundaries of taste even further with their next film, "There's Something About Mary." [SS]
"Don't Be a Menace to South Central While Drinking Your Juice in the Hood" (1996)
As demonstrated by "Kingpin," Siskel and Ebert didn't just take "important" movies seriously; literally any film could provide them the jumping off point for a serious discussion. This terrific review of a not-so-terrific Wayans Bros. movie addresses issues of race, stereotyping, and guilt and explores the very nature of comedy and satire in cinema, all in just four minutes. Also admirable is the fact that Ebert's honest enough here to admit that he's unsure how he feels about the film. In the world of television, where authority on a subject is based less on actual knowledge than the appearance of confidence in one's own intellectual certitude, that's not easy to do. [MS]
"Frozen Assets" (1992)
However, there were some things Siskel and Ebert could be sure of. Siskel would admit four years later to walking out of "Black Sheep" after he could no longer stand the sight of Chris Farley, but yet he stayed for the entirety of what he and Ebert agreed was "the worst comedy ever made." Or at least that was before Siskel feared the filmmakers might actually use that line for marketing purposes and amended it to "the second worst comedy ever made," setting off one of the show's funniest discussions ever about what kind of reparations could be made in the afterlife to atone for such a film — Ebert suggests "months and months and months in a beautiful valley, with honey, and nectar, and zephyr-like breezes." The Corbin Bernsen-Shelley Long sperm bank comedy was never released to DVD, and I'd like to think this review is why. [SS]