Amir Bar-Lev Tells the Two Sides of "The Tillman Story"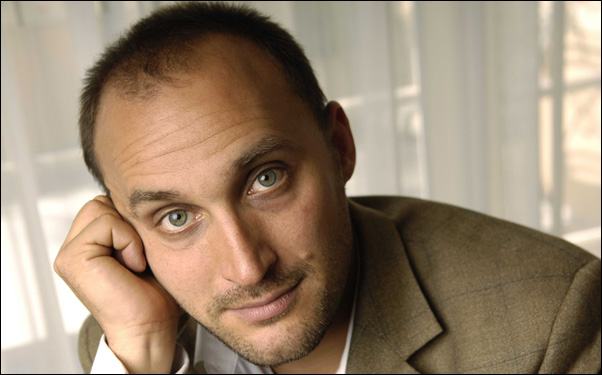 Posted by Aaron Hillis on
In his 2000 feature debut "Fighter," doc filmmaker Amir Bar-Lev followed two Czech Holocaust survivors as they revisit a notorious labor camp, one of whom begins poking holes in the other man's narrative. As the director himself explains: "It's about the tension between two friends when one of them begins to question how much of the story has been imposed as an afterthought."
Seven years later in his controversial but acclaimed "My Kid Could Paint That," Bar-Lev investigated a Binghamton, NY family whose precocious toddler Marla Olmstead had been vetted by the media as an art-star prodigy. Bar-Lev revealed the facts to be a little sketchy after Marla's parents handed over the storytelling reins to the filmmaker, then tried to take them back: "A tug of war ensues between who controls the story. Is it mine to tell?"
As diverse as his films have been, it's easy to see that Bar-Lev is intrigued by the profound variances and discrepancies that can be revealed when storytellers are taken to task. His riveting new film "The Tillman Story" concerns the baffling tragedy of Pat Tillman, the late Arizona Cardinals safety who turned down a multi-million dollar football contract to instead enlist with the U.S. Army Rangers. Deployed to Afghanistan, Tillman was shot and killed in 2004, labeled a war hero by the government and the mainstream media, all before it became public that he was a victim of friendly fire and a subsequent cover-up.
I sat down with the gregarious Bar-Lev to discuss his film "about a guy who doesn't say anything. The country needs him to be this mythic hero, the facts be damned. After he dies, they rush in like nature abhorring a vacuum, and impose their narrative on him at the expense of who he really was, and his family has to fight for his legacy."
Most of the major events in "The Tillman Story" happened before you started filming. Where does that leave you from a storytelling point of view?
In the first two films I made, the story unfolds with our camera there. Sometimes when something's already happened and you show up, there's a problem with kineticism. There's nothing to see and it has a lifelessness to it. But the family [provided] such great interviews. The soldiers, also, are pretty good interviewees.
We got really lucky. Like, we had some special screenings in Napa, Calif. Last Wednesday, this guy shows up and introduces himself: "I was one of the camera operators who shot the memorial service back in 2004." I had been thinking about this guy without having ever known who he was. It's one of these amazing pieces of great documentary fortune.
People love to talk about how the camera lies, but when people chalk up "My Kid Could Paint That" to artifice, I'm always saying, "Well, yes and no." There's a scene where Marla makes mud the first time I'm trying to film her, and it's the opposite of the camera lying. The camera is actually cluing into shit that the filmmaker isn't cluing into. It's leading me. It's a useful tool because of my own naiveté or discomfort in the room. Interpersonally, I wasn't noticing it, but the camera was getting shit that I had to watch later in the edit room to really understand.
Similarly, these camera operators intuitively were zeroing in on stuff that they had no way of knowing on a rational level was happening. In this sea of almost 4,000 people, they were zooming in on people who not only would become central in our film years later, but didn't even understand this was going to be a crucial moment in their lives.
[Lt. General] Philip Kensinger was fired over this. He ended his 37-year military career over what was happening at that very instant. From a distance, these camera operators noticed the wheels turning in his head without ever realizing. One of the great crutches for us was in having this B-roll that these guys shot "for us."
So this guy shows up in Napa and says, "I've been wanting to meet you. We camera operators got together after filming and said, 'Something's not right. Something stinks about this.' There's going to be more to this story." Meanwhile, the rest of the country was talking about how Pat Tillman died this hero's death. Even the family didn't quite know that at this point.
What exactly did they uncover with their telephoto lenses?
They saw people in the audience who seemed to be agonizing over what was being said on stage. I don't know if I can even elaborate. The way the guy put it, "We just filmed a pageant of patriotism, but something didn't add up." That was one of the very crucial elements that we had to work with, having missed it at the time.
The other thing we had was this reenactment of the day of Pat's death, which is not really a reenactment, but a tool for obfuscating. We had this challenge of using [the reenactment] but critiquing it. Because the family was pushing so hard to find out what really happened, the government was forced to do repeated investigations. There were seven in total, but as it turns out, they weren't intended to get to the bottom of things.
It's not in the film, but you hear the guy doing the reenactment saying, "Okay, let's do it one more time. Faster." The point was to hoodwink the family and the country into buying the scenario, which was this idea that a confusing ambush took place.
While the soldiers were suffering from the "fog of war," beset upon on all sides by the Taliban, they accidentally fired, at a great distance, on Pat's position in a matter of seconds.
But as the family found out, contrary to what's depicted in that video and insisted on by the government to this day, the ambush — if there was one — had long since been over by 10 minutes. The distance from the shooters wasn't 200 meters but 40, and you hear the guy actually struggling to get the GMV Humvee on which the guns were [mounted] to go as fast as they needed it to perpetuate this myth.
You can't get from here to there in four seconds, much less be firing at a position. So it was a minute to two minutes. There's a huge difference, and there may have even been time for them to reload. Regardless, they stopped, got out of their vehicle, and he was accidentally caught by an errant bullet.