Alexandre Aja Sinks His Teeth Into "Piranha 3D"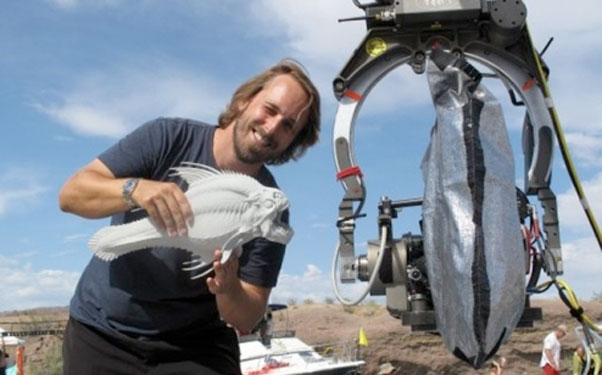 Posted by Stephen Saito on
August has been a month of guilty delights laden with 3D dance movies, '80s-style actionfests and this week's "Piranha 3D," which should prove to be the perfect capper to the summer, since no one will want to go to the beach after seeing it. Director Alexandre Aja may not be so easily convinced to do so, either, having endured 120 degree days on Arizona's Lake Havasu and the strenuous demands of filming on and underwater. (One of his next films, "Cobra," will be set in space.)
But rarely does this much pain result in such pleasure, a recreation of the cheap thrills that Aja experienced growing up in the '80s with lighthearted genre fare where the laughs were as plentiful as the shocks. It may be surprising, but when the director of "High Tension" references a Joe Dante film for "Piranha 3D," he brings up "Gremlins" as a touchstone, not the Corman-produced 1978 tangle with the fanged fish, which shares only half a title and a predilection for boobs and blood, and though a cast that includes Adam Scott and Paul Scheer alongside Elisabeth Shue and Ving Rhames ensures a considerable amount of irony, there is no denying Aja's intentions are sincere. In the midst of campaigning for eventual Oscar gold, Aja took the time to talk about growing up without spring break, convincing Richard Dreyfuss to rejuvenate his sea legs and how one goes about cleaning up 80,000 gallons of blood.
At Comic-Con, you said you had already received an R from the MPAA for the 2D version, but hadn't yet submitted for the 3D. Did you have to make any changes?
No, there is no difference at the end. The MPAA was great and they gave us the R rating, even with the 3D version. I was scared that they might say 3D was more graphic because it's more in your face and finally, no…I think they had a great time. I heard [from] people close to that screening that they were laughing and having fun as well.
You've talked about not having spring break in France. What appealed to you as a setting for a horror film?
I've always had that attraction/repulsion for a lot of things in American culture and definitely spring break is one of those for me where on the one hand, you have the most crazy, excessive week you can imagine — I'm not against excess, the opposite. But I also feel for such a repressed society, such a conservative society to have the use for one week doing everything they want in the most [reckless] way and then just pretend that nothing happened for the rest of your life, it's such a very bizarre way of living.
And I always have that questioning and fascination in a sense, because even if I put myself sometime on the side of the piranha and I have some fun to see them as a row stock of meat more than people — I'm talking about the spring breakers here — I kind of can't help myself to think that oh, that's fun. They really enjoy the party and for some people, they really have a good time. And it's a mix between attraction and repulsion that interests me and that really brought me to that subject.
I thought it was a great storyline. I wanted to make a big fun movie, like an adventure ride and when I received that script with that very simple storyline like an earthquake released prehistoric piranha during spring break on a lake in Arizona, I thought it was just like the best set-up possible.
You've got such an eclectic cast, many of whom play on their iconic status like Richard Dreyfuss or Christopher Lloyd. Was it difficult to convince anyone to come onboard?
I think Richard Dreyfuss was definitely very hard to convince because it was like going back to his character from "Jaws" and it was not easy for him to understand the joke and finally do it and I'm very happy he agreed because I cannot imagine the movie without him now.
It's always very difficult when you get to that kind of genre to convince actors because they're always very scared about getting in the movie and looking bad or bad directors. Elisabeth Shue had a very bad experience on "Hollow Man" and she didn't want to go back in the genre and I spent time talking to her and explaining that it will be an adventure that won't be easy, but we'll have a lot of fun and that she'll be very proud of at the end and that's what happened.
When you do that kind of movie where you have to challenge of so many elements, like the desert, the heat, the water and everything, it creates very solid bonds and as you saw at Comic-Con, we love each other and it's a big family. I think the script really helped and also I think my previous movie [showed] them I knew that I was doing something when I had a vision, I could defend that vision. So they trust me and I'm very thankful to them for giving me that chance because the movie without them would be just another monster movie with no soul. They are bringing the soul to "Piranha."
Does the way you approach building the suspense or horror different knowing it's in a less serious context than other films you've made?
I didn't really try to make it scary. I was not focusing on the scary because the first draft I received was a comedy, was not an R movie and I tried to make it more darkly humorous. I tried to develop the characters, the situations and lots of suspense in my writing, but I was aiming for like a disaster movie more than a scary movie. I was more aiming [for] setting up a lot of characters from different backgrounds and seeing them reacting to the most awful thing that can happen to them and creating fear and tension wherever, but the most important [thing] was to allow space for the fun.