After "Resident Evil 5" Controversy, Capcom Promises Increased Cultural Sensitivity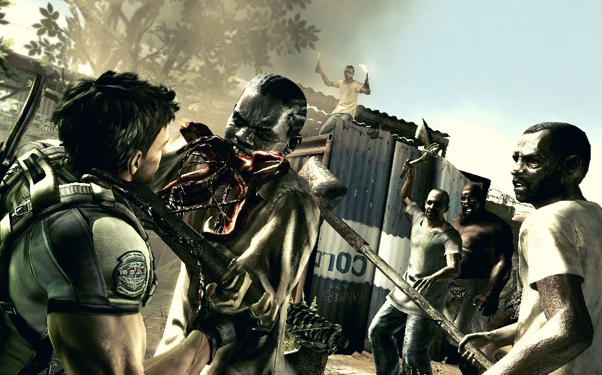 Posted by Evan Narcisse on
"Resident Evil 5" was one of last year's biggest games. It re-invented the survival horror franchise by moving the action to a bright, sun-drenched setting and introducing co-operative play. That new setting was a fictional country called Kijuju and the way that the infected citizens were portrayed in the game made a lot of people uncomfortable, myself included.
A controversy raged about whether the game was racist or not. For my part, I've written elsewhere how the bugged-out eyes and animalistic savagery of the zombie attackers in "Resident Evil 5" reminded me of racist imagery used to perpetuate stereotypes and ignorance about black people. I chalked part of that up to some level of cultural disconnect that happened in the game-making process. Capcom's a Japanese company–best known for its "Street Fighter" and "Mega Man" franchises–that made a game for global consumption but RE5 exposed some serious tone-deafness.
Now, representatives from the company's U.S. branch are talking about how to avoid such problems moving forward. From an article at Gamasutra, Capcom's Senior PR Manager Melody Pfeiffer said the following:
"Since the RE5 controversy, we have become much more aware of how important it is that we are part of the asset creation process early on so that we are able to have a say in the end product," Melody Pfeiffer, senior PR manager for Capcom, said.

"We are also designing a lot of our own assets from this side of the pond so that we are able to make strategic pieces of content that make sense for our market. We are working really closely with our producers in Japan to construct these materials for the West and they are open more then ever to hearing our thoughts and ideas for assets."
This kind of jibes with my take on the Kijuju fiasco. I wrote the following more than a year ago:
We don't live in a world where racism's been wiped out. We don't live in a world where demeaning stereotypes never existed. The only way to get there is to reckon with things that refer to those legacies — consciously or not — when they pop up.
…
I don't even care if they're good guys or bad guys, shallow or deep characters. But I do care if they remind me of ugly, racist stereotypes, even if that wasn't the intent.
It's good to see that Capcom will be thinking about the ripple effect their games might have moving forward.