A Chat with Graham Linehan Creator of The IT Crowd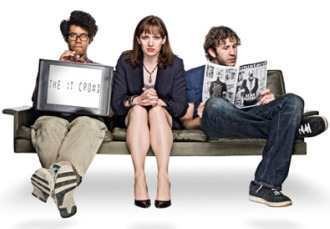 Posted by Melissa Locker on
In advance of tonight's U.S. premiere of Series 4 of the BAFTA and Emmy award-winning British sitcom The IT Crowd, we chatted with writer, director, and creator Graham Linehan. It wouldn't be an interview with the creator of The IT Crowd if there weren't some technical difficulties. After we made sure everything was plugged in and turned everything on and off, we started the interview.
IFC Now: What can we expect from Series 4 of The IT Crowd?
Graham Linehan: Just the same things we've seen before. More of the same. Silly nonsense. Silly situations. But funnier. We were finding our feet in the first series and then we had one or two great episodes in the second series. They were great episodes that really showed what we were capable of as a show and with the cast. Then we had a couple of really good episodes in the 3rd series. We came closest in that series to living up to our potential. 5 out of the 6 episodes are truly great. The one episode that wasn't, we had to have a complete re-write in the final week of rehearsal. You can see the strain a little bit. We like to call the episode our Apollo 13 in that it could have been a lot worse. But in Series 4, it really is the same stuff as always really. Same things with loose connections.
IFC: Speaking of connecting, are we ever going to see Roy and Jen connecting?
GL: Interesting question. We experimented with it in Series 1, but it didn't feel right. I'm not great at story arcs. Introducing a romantic subplot would mean I'd have to start thinking properly about what I'm doing.
IFC: In the past you have crowd sourced the props and set design…
GL: …And the jokes!
IFC: Really? Please explain.
GL: We were so behind with writing, we didn't really have time to think of all the funny. So we were literally asking Twitter on the day of filming, asking for euphemisms for …er, "behind" and it was really successful! And because we were behind we were still getting suggestions right before the audience came in.
IFC: Well to that end, we got some questions from fans on Twitter for you.
GL: Great.
IFC: @tor2600 asked, Are the characters in The IT Crowd based on real people?
GL: Roy is me in my 20s and 30s and I punish Roy for all the terrible things I did to girls in my 20s and 30s. Roy is kind of a voodoo doll who I can punish. Moss is me before I was interested in girls and Jen …There's a lot of my wife in Jen. She's a woman coming into a male environment, which is what happened with my wife. Jen represents all that. Douglas is a just generic rich guy who you can make do all the generic rich guy things. Stuff that people like Richard Branson or Conrad Black are always doing.
IFC: How many wives has Douglas had?
GL: (Laughs) He seems to have killed one. And his other wife bears an uncanny resemblance to Denholm's wife when he died.
IFC: @Vuk_Oreb wants to know if there will really be a Christmas Special?
GL: There might be. It's definitely something I'd like to do, because I've got what I think is a really funny idea for a Christmas special. But it will have to wait until after the next Series.
IFC: Is there a Series 5 to look forward to then?
GL: We've been commissioned. We need to get a commitment from the actors. Because they have been doing this a long time. I'm also starting to get enough ideas for another series.
IFC: The relationship between the characters has really evolved from Series 1 where they didn't really like each other to Series 2 where they were friends. How does their relationship progress in Series 4?
GL: I'm not really good at character or plot development. I'm just interested in big comedic moments. The characters are running on the spot, but they are friendlier now and I'm glad you noticed that they are friendlier now. In the first series they were all shouting at each other a lot, because I thought they needed to have that tension, and it lead to quite a shrill experience. Now they are much nicer and they like each other. I also really didn't want to make Jen as negative a character as the boys. I like shows where the female characters are as funny as the male characters, not just commenting on how funny the male characters are. I like to maintain a thing where all the characters are just as bad as each other.
IFC: @JoesRobot asked via Twitter, with The IT Crowd rising in popularity, is there an added pressure when working on the new season?
GL: Yes, but it is suiting me really well. On Twitter people keep asking me when the new show is coming out. It's nice for me to have that reminder that there is an audience and people are watching. The scripts were really good this time. I think there is something to be said for churning things out. Motown churned out hits and there is nothing wrong with that.
IFC: Each series has only six episodes. Why so few? We want more!
GL: It's only six episodes because I write them all myself and I direct them myself so it is all I can manage without having a nervous breakdown.
IFC: What does Reynholm Industries do?
GL: (Laughter.)
IFC: I thought if I slipped it in there you might answer.
GL: It might be something to do with various weapon sales. Something bad. Not bottled water, although they might be doing that on the side. If I actually said what they did, I would have to do research and I'm too lazy.
IFC: So many British shows are getting turned into versions for the American viewing audience. Is there going to be a U.S. version of The IT Crowd?
GL: Yes. I think it is in development right now. With Joel McHale and Richard [Ayoade].
IFC: Do you think parts of the show would have to change for an American version of IT Crowd?
GL: I don't understand the need to remake things. I don't really understand why. There was a British version of the "Golden Girls". Like the Golden Girls with none of the sass or the sparkle. You can buy Blanche being a bit of a slut, but you couldn't buy these ladies being one. If you're so desperate to have a comedy with three old women in it why not make your own? And the format of the IT Crowd is not the most groundbreaking thing about it. The Big Bang Theory seems to remake it well.
IFC: You think Big Bang Theory is a remake of IT Crowd?
GL: No, but it's similar. It is a new way of approaching the same format. Father Ted would be impossible to remake it in America. The whole situation of being Irish and being a priest in Ireland is so different than anything else in America.
IFC: Like remaking "The Wire" in London?
GL: Or Kent! Having said that, the IT Crowd is a better contender for a remake. Being looser in its themes and what it is about makes it a better contender. If they are going to remake it as long as the show keeps to the same principles of big set piece comedies and no hugging, no learning, I think it could be okay.
IFC: No hugging, no learning?
GL: There's a thing from Seinfeld, No hugging, No learning. The characters don't hug and they don't learn. They just are who they are. That's something that I takes as law. British sitcoms are a lot more cynical and I would hate for the show to come to America and get a heart. People like seeing the characters getting in and out of trouble, but they don't need to learn life lessons from it. The characters are one step away from being a cartoon. I love The Simpsons and South Park and I'm trying to do a live action show that makes me laugh as much. The characters don't need to change. Lisa Simpson has been 8-years old forever.
IFC: Finally, my geeky dream (and the dream of some Twitter fans) is to have some IT Crowd action figures. Any chances of that?
GL: YES! Well, I'm saying yes and then worrying about the details later.
The IT Crowd airs on IFC on Tuesdays at 10:30. Series 4 starts tonight.