"Winnebago Man," the Story Behind an Unwitting YouTube Sensation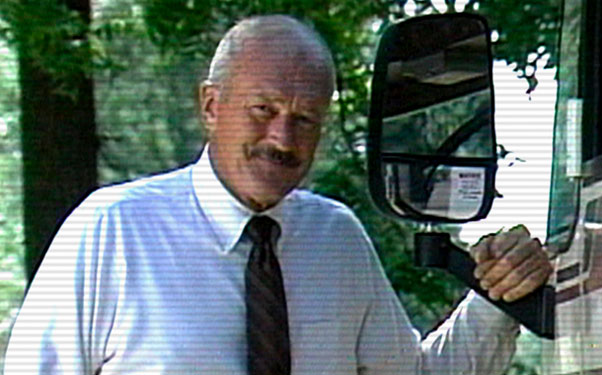 Posted by Matt Singer on
I have this really funny video of my father. My family was on vacation in Aruba years ago. We were hanging out by the pool and we had brought one of those inflatable rafts. My father tried to get on it, and slipped off. Then tried again, and fell. Again and again and again. You'd think he'd covered himself in castor oil before he got in the pool or something. It's absurd. I have no doubt that if I put this video up on YouTube eventually thousands of people would watch it because — trust me — this video is funny. But I wouldn't do it because it might embarrass my dad or hurt his feelings (though I seem to think writing about it won't piss him off. Let's hope I'm right).
The people in the YouTube videos we pass around to our friends and co-workers are exactly that: people. And after they recover from the physical pain of getting run over by a car or falling out of a tree, they have to deal with the shame of becoming famous for being the guy who got hit by a car or fell out of a tree.
The only way pre-Internet you could accidentally find yourself known by millions of people was by either sleeping with a celebrity (in which case you kind of have to know what you're getting into) or by being the center of some sort of media circus (like, say, if you accidentally fell down a well). Now, it could happen to any of us who've ever done something stupid in front of a camera (Lord knows that includes me) at any time without our consent.
The absorbing and thought-provoking documentary "Winnebago Man" is about one of the men who holds this kind of unintended and unwanted celebrity. His name is Jack Rebney, though fans of his "work" know him as "The World's Angriest RV Salesman." He's the star of a four-and-a-half-minute series of profane outtakes from an industrial video for Winnebago Industries that's been viewed millions of times on YouTube. A University of Texas film professor named Ben Steinbauer became so obsessed with this clip he decided to make a movie about it.
Above all, Steinbauer effectively provides the key thing these hilarious YouTube videos do not: context. Steinbauer tracks down the film crew of the Winnebago video shoot, who describe the awful working conditions and their star's incredibly poor attitude, the key factor that led to the group's decision to capture and then compile Rebney's outbursts and hand them over to their bosses at Winnebago. (The decision got Rebney fired.)
He finds the folks most responsible for spreading the tape: the hosts of "The Show With No Name" and The Found Footage Festival, who cherished and shared their VHS tapes of "The World's Angriest RV Salesman" back in the day when each new copy had to be made one at a time in a tape-to-tape deck. And after an exhaustive search that includes hiring a private detective, Steinbauer even locates Rebney, living a quiet life of seclusion in a mountain cabin in Northern California.
As the expression goes, it's sometimes better to be lucky than good, and Steinbauer was one lucky documentarian throughout the making of his film. Not only was he lucky to find Rebney at all, there's no way he could have known when he started "Winnebago Man" that the hilariously foul-mouthed guy at the center of all of this would turn out to be such a fascinating, complicated subject.
Rebney is all contradictions: a former newsman longing for the days of impartial journalism who spends most of his free time calling Dick Cheney names; a hermit living in total isolation who hates the fact that he's become known for "the historicity" of his youth, who nevertheless clearly loves the spotlight and the platform he's suddenly been given; a man who became famous for acting like an idiot who is clearly very intelligent, never more so than when he accurately sizes up Steinbauer and his agenda by snarling at him, "You've got zilch unless you've got me."
The relationship between Steinbauer and Rebney is a strange and compelling mix of mutual exploitation and friendship. Watching the film a second time (after enjoying it once before at CineVegas in 2009), I remain impressed by Steinbauer's ability to draw honest, candid material from a tough interview like Rebney and by the film's humorous but respectful tone.
I did find myself more troubled by the ending, which in some ways negates all of the thoughtful criticism and self-analysis Steinbauer provided for the previous 90 minutes by reversing course and encouraging the consumption of the same viral videos it had so thoroughly demystified. In Steinbauer's words, being remembered, even if it's not what you want to be remembered for, is better than being forgotten.
So I guess I will be putting my father's pool escapades online. How's "The World's Slipperiest Father" sound for a title?
"Winnebago Man" opens today in New York before expanding into limited release on July 16th.