When anticipation becomes everything.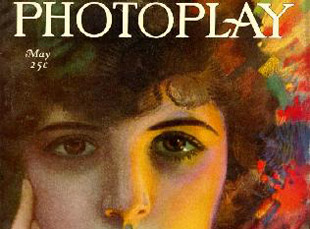 Posted by Vadim Rizov on
Slate cartoonist James Sturm has been conducting an experiment in seeing what his life would be like if he quit the internet entirely for four months.
It's a fascinating series — not least because he's already had a lapse — that reminds us that even those who work at home are no less plugged-in to the online world than those with office jobs (maybe more so, if you ever have to consult anyone who's not there). And that's, of course, the prime readership for many blogs.
Moviegoers haven't gotten more voracious — after all, by the 1910s, Photoplay magazine was already off and running, with celebrity culture way out there and exhaustively covered. The difference between then and now is the studio's gradual loss of power over their stars' images.
But the promotion of the films themselves is a different story. Studios used to unleash, at careful intervals, little "behind-the-scenes" featurettes (most obviously staged), as well as collectible lobby cards (for the most part discontinued by 1985, but still produced by Hollywood studios for consumption abroad).
That — plus maybe the occasional trailer — was pretty much all viewers had to go off of going into a movie. Even as coverage of entertainment grew exponentially into a self-sustaining media industry, you had a pretty decent shot of going into a movie having maybe only seen one or two images of it altogether.
Obviously, this is no longer true. The other day when I saw the second "Inception" trailer for the first time in a theater, I was pleasantly gratified to realize I hadn't seen it yet.
With so many content mills waiting to be filled, the release of a trailer online is a mini-premiere in and of itself, one seemingly "reviewed" (or at least scanned for extrapolations about the forthcoming film) by at least half as many publications as will actually end up reviewing the finished product. The same goes for the merest still picture, production set photo or even casting rumors.
I'm not sure what all this does for film fandom, but I'm pretty sure the 24-hour news cycle is unhealthy. Sites have to update more and more to maintain readership attention, so it's inevitable that studios would release more and more material to stoke interest — it's a cheaper form of publicity for sure, though it's not lust for information that's driving it, just more space to fill.
People often claim that the internet has fostered more productive discussions among non-pros about movies. I think it's true, but that it probably serves more of a role before the release of the film.
Most mainstream audiences can agree about what's good and bad, and those are the movies that get the most online press (aside from genre fare). Because of that, there's really not a whole lot to talk about once it's out there. But angrily prognosticating what'll come of a movie has become what the internet's built for.
I suspect it's part of the reason people who haven't seen a movie yet nonetheless get furious with negative reviews for stuff they haven't even seen yet.
[Photos: "Photoplay," public domain, 1921; "Hercules in New York" lobby card, RAF Industries, 1969; "Inception," Warner Bros., 2010]