Watching "Rocky IV" on the big screen.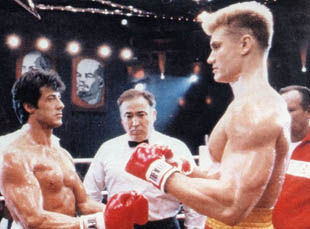 Posted by Vadim Rizov on
A friend once told me that I wasn't a real American because I hadn't see any of the "Rocky" movies. He was only half kidding. Still, given how iconic the series is and how ubiquitous it is on basic cable, it's easy to feel like you've seen the film even if you've only caught the usual clips. And even I know that "Rocky" and "Rocky II" are decent; "Rocky III" is given a pass because it has Mr. T; and "Rocky IV" is the real lunatic film of the franchise, an all out Americans-vs-Russkies allegory grandiose enough to grace the Thanksgiving holidays for Ronald Reagan's fifth year in office. And when I finally got a chance to see a "Rocky" film (in a theater, no less), it was installment four that I started with.
Part of what gives "Rocky IV" cult status are the bits emphasizing just what an stupidly huge presence Dolph Lundgren is. Stallone's never hesitated to undercut himself for the greater dramatic good, so he'll shoot from a low angle designed to make Lundgren loom even more than he naturally would. Lundgren's Ivan Drago is a Bond-esque supervillain, a 'roided-out freak sent to attack America self-confidence in the boxing ring.
It's a hysterical way of framing the Cold War stakes, sure, but entirely appropriate for a conservative-minded guy like Stallone. (Ironically, the Swedish Lungren now has a sizable Russian following — his last film was set there, so the part clearly didn't hurt him one bit, or maybe many Russians really would like to have that guy out there on their behalf.)
One of the charming things about "Rocky IV" is that it has no subtext whatsoever. Everything is spelled out painstakingly, with long speeches from Rocky about what he's standing up for (America, Apollo, etc.) and a press conference that devolves into both sides shouting about lack of respect for their political positions.
It's not a good movie — the audience was laughing right from the beginning — but it's nowhere near as challengingly, mystifyingly bad as "The Room" or "Birdemic." It's just sweetly, dopily earnest; the initially giggle-heavy audience eventually reluctantly settled down into a torpor where every gratuitous '80s-ism stopped being cause for laughter and only the truly bizarre stuff caused cackling.
Movies like "Rocky IV" doesn't get shown in 35mm much. On the one hand, why tie up scarce screens with ironic nostalgia staples? On the other, it makes a screening of a basically unexceptional movie like "Rocky IV" more of an event than you'd ever expect it to be. Most of the people in the auditorium probably hadn't seen it in a theater since 1985; the nostalgic connotations must've been fierce. Afterward, people started asking each other about other movies they might have revisited since "becoming adults."
There's value to seeing taken-for-granted pop culture ephemera exhumed briefly for one night, then consigned back to its post-theatrical afterlife. It provides a very rare occasion to give your full, undivided attention to something that's been in the background of your life for years, taken for granted. And in the end, it didn't matter that I didn't really feel any deep history with Adrian.
[Photos: "Rocky IV," MGM/UA Home Entertainment, 1985]