Revived and Derived: "Freaks and Geeks" Ep. 3, "Tricks and Treats"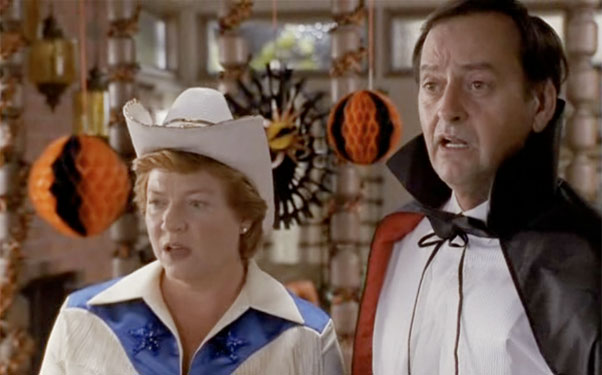 Posted by Alison Willmore on
"Freaks and Geeks" is now airing on IFC, and we thought we'd take this opportunity to revisit the show that launched a thousand bromance movies. Every week, Matt Singer and Alison Willmore will be offering their thoughts on that night's episode.
Episode 3: Tricks and Treats
Directed by Bryan Gordon
Written by Paul Feig
Originally aired October 25, 1999
"Last time I had this much fun, I was pinned down in a foxhole by the North Koreans." –Harold Weir
Alison: We haven't gotten around to discussing Lindsay and Sam's parents before, though they're as regular a feature in the show as either of the Weir siblings' friends. They really come to the forefront in this Halloween-set episode, which is all about figuring out what it means to act your age.
Seeing the Weirs at home goes a long way toward explaining why Lindsay and Sam are at heart such nice kids. Jean (Becky Ann Baker) and Harold (the amusing irascible Joe Flaherty) are loving, supportive and endearingly clueless about the inner lives of their mercurial offspring.
Harold's parenting primarily takes the form of a seemingly inexhaustible arsenal of anecdotes about the dire fates of misbehaving kids he knew growing up. In the pilot episode, these warning tales all seem to end in an untimely demise, but in "Tricks and Treats," his example is Scott Byron, who "kept on trick or treating well into he was well into his 20s," setting him on the path toward something apparently worse than death — he's single, a laughingstock and still living at home with his mother.
Harold's bothered by Lindsay's recent attempts at acting out, but he's more concerned here with his son's arrested development — and in this case, he's right. Sam and the other geeks are too old for trick or treating, a fact they're forced to come to terms with over a painful evening spent trooping around the neighborhood in costume. Sneered at by a chain-smoking harridan, mocked by the Hot Dog on a Stick girls and candy-mugged by Alan and his fellow bullies, their Halloween ends with the ultimate indignity, as Sam gets egged by what turns out to be his own sister.
Meanwhile, Jean's delightfully dorky giddiness over the holiday — I love the expression on Flaherty's face, full fork hanging in the air, as he watches her sing "Monster Mash" over dinner — is crushed by her daughter's ditching her at the last minute to hang with the freaks, leaving her alone to face the hoards of trick or treaters who dump her homemade cookies in the lawn, having been trained not to accept anything that doesn't come safely pre-packaged.
Though Lindsay's return at the end — a prince riding to the rescue — provides some measure of comfort, Jean nevertheless has to accept that her children aren't really children anymore, and that she can't expect to be able to keep them as close.
Matt: Mrs. Weir — sorry, I refuse to call her Jean, she just feels too much like one of my high school friends' moms to treat her so informally — is definitely struggling with the fact that her kids are growing up. But back in the pilot, she practically demanded Sam and Lindsay to go to the homecoming dance. That seems like a slight contradiction: do you want them to go to dances and be high schoolers or do you want them trick or treating and acting like little kids? Alison, maybe you can explain how those two seemingly opposing positions work together.
The key line of "Tricks and Treats" is spoken by the geeks' matronly English teacher Mrs. Whitman (Hariet S. Miller) as she denigrates her students' book report choices (great character-defining detail in those books, by the way: Bill picks "Snappy Answers to Stupid Questions by Mad cartoonist Al Jaffee, Sam chooses the novelization of "Star Wars" and Neal goes for "Yes I Can" by Sammy Davis Jr.) "It's time to grow up, people," she scolds.
And while there will be plenty of juvenilia throughout the remaining episodes, it does feel like the characters have taken some reluctant steps toward adulthood by the end of this week's 44 minutes. Just compare their activities in the cold open — Bill bets ten bucks he can eat anything Sam and Neal can blend into a smoothie — and the episode's final scene, where Sam stays up late after his disastrous Halloween to read Mrs. Whitman's assigned reading material: Dostoyevsky's "Crime and Punishment."
And while "Tricks and Treats" isn't exactly a Russian novel, it is awfully bleak. All the characters have to make these major choices about how to behave. Without exception, every single decision has disastrous consequences. Sam's got to decide whether or not to go trick or treating; he does, and gets egged. Lindsay has to decide between handing out candy with her mom like she'd promised or hanging out with her friends; she picks the latter and learns a bitter lesson about the consequences of "innocent" pranks.
Mrs. Weir loves handing out cookies to the neighborhood kids and carries on even after Lindsay ditches her; she's rewarded by a parade of scolding parents. There's a small amount of optimism and sweetness in that finale that you mentioned between Lindsay and Mrs. Weir, but that's immediately tempered by the scene that I mentioned where Sam reads (but doesn't understand) "Crime and Punishment."
That scene is another of those "only-on-'Freaks and Geeks'" moments. Instead of concluding an episode full of emotional drama with some sort of cathartic blow-up or a plot-centric resolution, writer Paul Feig ends things with an understated and narratively inconsequential exchange between father and son. There are no jokes, no crazy lectures from Mr. Weir about his friends who didn't heed his advice and wound up dead, no snarky comments from Sam about his dad's square taste. Just a quiet, bittersweet moment where a teenager begins to accept the reality that he's getting too old for some of the things he loves to do. Sadly, it's time to grow up.