Hey, what'd Tom Cruise ever do to you?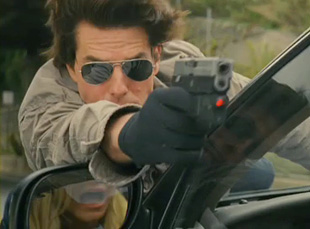 Posted by Vadim Rizov on
I never had a strong opinion on Tom Cruise. He seemed an amiable enough actor, his movies tended to be better than those of many other marquee names' (Cruise is good at knowing and working within his range) and that was about it.
And then Cruise starting ranting about Scientology, jumping on couches, calling psychiatry a "Nazi science" — and his career, or at least his popularity, went to hell. As Wikipedia pointedly reminds us, Cruise's ratings in various polls slid not only from his former beautiful people rankings, but one "revealed that Cruise is the celebrity people would least like as their best friend." (The fact that people can rank the celebrities they'd like to be friends with is bizarre in itself.)
All of which makes me… like Cruise more.
The issue is coming up again because "Knight and Day" underperformed during its opening week. The entertainment world bowed its head and resolved not to rest until every possible explanation for this has been investigated. At the LA Times, Patrick Goldstein ran an interview with Fox co-marketing president Tony Sella, who was surprisingly candid for a studio man and swore up and down this wasn't Cruise's fault.
People e-mailed Goldstein en masse to counter that everything is Cruise's fault. Per Goldstein: "the mail is running about 50-1 against Cruise." (This is actually the default negative/positive response ratio for everything that happens online every day.)
Someone named "Di Landau" wrote "I think many of us are very 'over' Tom Cruise, if in fact, we were ever into him (not me btw)." Landau goes on to say it's not just couch-jumping; "it's multiple marriages, a narcissistic personality and the fact that a million dollar smile goes just so far."
All true, I guess, but given that a lot of Cruise's work from "Jerry Maguire" onwards is a series of disguised, panicky self-portraits and investigations into this (culminating in "Vanilla Sky" and "Minority Report," two movies about mid-life crises with father figures who aren't what they seem), it's not like he's unaware of the problem.
What I like about Cruise is his willingness to act like a jack-ass on-screen even as his public image goes to hell. He's okay at being charming, but he's even better at being manic. And overall, his offenses are pretty minimal. It's more shocking that, say, John Cusack — half of whose Twitter feed consists of sniping at people who point out his spelling and typing are atrocious — has any fans left who still think he's charming Lloyd Dobler rather than a weird guy fixated on liberal talking points and being a crank about his right to illiteracy.
I'm surprised more stars don't alienate their fans on a regular basis. Cruise at least has the conviction of his weirdness to run with it both on- and off-screen, and it doesn't appear to be hurting anyone. The fact that he's not actually Jerry Maguire shouldn't really be news to anyone, any more than the fact that Cusack is best experienced on screen and not online.
Yet hating Cruise is now some kind of national sport, up there with mocking Kanye West's egotism and — before his death — joking at the expense of Michael Jackson. It's hard to think of a mainstream star who's alienated so many of his fans without really doing anything.
Then again, that's why most actors have handlers who tell them how to keep their mouths shut in public. The only difference between Cruise and anyone else is that no one can tell him to shut up. He's reviled in ways that go beyond regular internet trolling, and it just doesn't seem justified.
[Photos: "Knight and Day," 20th Century Fox, 2010; "Jerry Maguire," Sony, 1996; "South Park," Comedy Central, 1997-present]