"Thunder Bay," the perfect movie for the Gulf oil spill.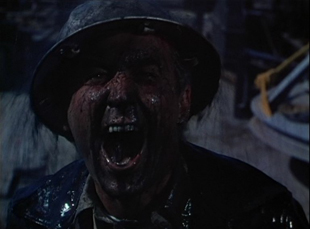 Posted by Vadim Rizov on
When people talk about whether or not a film has "aged well," they're usually discussing intangibles like whether the performances are dated (and how tolerant/appreciative you are of past acting styles), whether the technique seems old-fashioned, and so on. But given the right set of circumstances, a movie that over 50 years old can easily play as if it were made in response to something that happened two months ago.
Which is why Jimmy Stewart in 1953's "Thunder Bay" was perfect day-after-July-4th viewing.
No one's yet come up with a suggestion for a movie that mirrors the ongoing trauma of the Gulf oil spill. Last month David Plotz at Slate suggested the suitably obscure 1980 British thriller "ffolkes," in which Anthony Perkins threatens to blow up two oil rigs unless he gets $25 million.
But, as Plotz points out, that film has villainous Americans versus stoic Brits, "a through-the-looking-glass version of today's crisis… where environmentally conscious, capable Brits clean up a mess caused by greedy, destructive Americans, and where hard-headed British businessmen are ready and able to solve an intractable oil-rig catastrophe."
So that doesn't quite work; nor, regrettably, does "There Will Be Blood." Daniel Plainview may be rapacious and soulless, but he's a much more compelling public speaker than Tony Hayward.
"Thunder Bay," in light of current problems, plays entirely differently than it would have even three months ago. Stewart stars as Steve Martin (I know), an earnest entrepreneur whose life-long dream has been to get down to that ocean-bed floor.
It's not entirely clear why — he doesn't seem like a particularly pragmatic guy, it's more a visionary impulse thing. He gives a speech to love interest Joanne Dru about how oil is millions of years old, so by bringing it up it's like he's united all of time (!), but that's about it as far as motivation goes.
The antagonists are the townsfolk, shrimp fishermen who worry that Stewart's trying to destroy their livelihood. They get particularly alarmed when Stewart dynamites the bay to do sounding tests (or something like that), because they think he's killing all the shrimp. He isn't, needless to say, and at the end he even solves the mystery of how to catch the gigantic golden shrimp everyone in town's obsessed with (they only come out at night).
Regardless of present circumstances, "Thunder Bay" is a perfectly pleasant movie — if nothing else, Stewart and co-star Dan Duryea make one hell of a team. It's 1953 appearance was actually itself pretty topical — that year, the U.S. Submerged Lands Act was passed, in which the federal government claimed only land three miles or closer from the state coastline.
In 1975, some bright soul programmed it as the Friday night Channel 9 movie in Santa Barbara the weekend before a referendum on whether or not to allow an Exxon offshore facility. The anti-Exxon ballot was defeated by a 1% margin.
Here's a clever montage from "Thunder Bay," a temporarily surreal dispatch to what's currently one of the most institutions in public American life:
[Photos: "Thunder Bay," Universal, 1953]