The "X-Men" franchise goes forward by looking backward.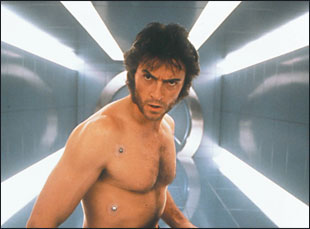 Posted by Vadim Rizov on
The "X-Men" franchise is about to embark on "X-Men: First Class," its fifth installment, an exceptional achievement for such high-cost films. At this point, the series bears little resemblance to its initial incarnation at this point.
Kevin Bacon's the latest actors to be in "talks" to appear, and the director — barring future disasters — will be Matthew Vaughn, which makes "Kick-Ass" now seem like a long audition tape for the opportunity to do the very thing it poked fun of. "First Class" will give us yet another origin story — Professor X and Magneto, the schoolboy years — with an almost entirely new cast (depending on whether or not Hugh Jackman makes a cameo) and nothing but the brand-name to depend upon.
History will probably best remember the "X-Men" movies for starting Hollywood off on its course of entrusting incredibly expensive franchises to independent directors without proven money-managing track records. Bryan Singer was brought in to handle the "X-Men" movies after "The Usual Suspects" and "Apt Pupil." He turned out to be far more qualified for staging big action set-pieces and running comic book characters through their allegorical paces than anyone might have suspected.
It'd be inaccurate to credit Singer's success with allowing Sam Raimi and Christopher Nolan to retool the "Spider-Man" and "Batman" franchises, but he did get there first — respect is due.
Fox screwed things up by bringing in Brett Ratner for "X3," but it made tons of money, so no one cared. Subsequently, Gavin Hood (best known for sentimental South African movie "Tsotsi") was brought in to make "X-Men Origins: Wolverine" for no apparent reason, taking the franchise back to its "indie" roots. Matthew Vaughn actually was was going to make "X3," but the schedule didn't work, so now the franchise is coming full circle.
Fox's plan for the future of their most reliable super-heroes seems to involve going backward. "X3" may have actually been called "X-Men: The Last Stand," but who would've thought they ever meant it? We only had three movies in the series before things flopping back into prequels, the first with Hugh Jackman, and this second the kind of "when they were young" movie you normally only do after everyone is too old to be plausibly cast again.
Marvel Comics took some stick this year for using "Iron Man 2" to set up a comic book universe of overlapping heroes, for which the movie had to conspicuously stop dead to let Samuel L. Jackson show up and get the next movies in motion. Fox is doing the same thing with "X-Men," except it's all within one franchise; they're slowly constructing the most geekily, fully-realized birth-to-death comic book heroes, with whole movies devoted to back stories. Is it just that origin stories are the simplest to adapt to movies?
[Photos: "X-Men," 20th Century Fox, 2000; "X-Men: The Last Stand," 20th Century Fox, 2006]