"The Secret of the Grain" and "Living Room Cinema Vol. 1" on DVD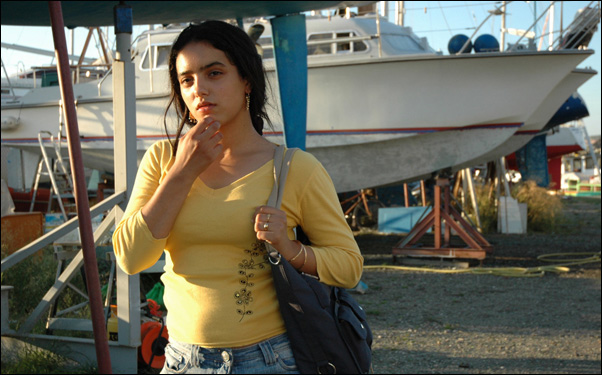 Posted by Michael Atkinson on
Nobody ever said movies were easy to make. Still, I don't know anyone who isn't more or less reliably dissatisfied with what they see on contemporary screens — all nostalgia for past golden ages aside, most new films, even when they're dazzling or rigorous, feel undernourishing, gimmicky, ephemeral.
There are all kinds of accomplishments possible in cinema, and some do not brand the memory or trouble your heart, and they can be accomplishments all the same. (I'm thinking of certain schools of Asian neo-minimalism, and high-end Hollywood auteurism.) But where's the Renoir banquet film, the mega-novel social saga, the hypertrophic state-of-the-age melodrama? It's the kind of movie you'd hope film pros could make regularly, to fill our empty, sugar-shocked bellies, but they're difficult and rare, and by the time Abdellatif Kechiche's "The Secret of the Grain" (2007) hit U.S. theaters a few years back, we may've forgotten that it's what we've needed all along.
Shot like a Dardenne brothers' film in the immigrant dockside French community of Sète, Kechiche's family epic seems simple and in your face on its surface — the members of a long-acclimated Arab family, and their myriad of in-laws, babies, cohorts and lovers (there are at least 20 significant figures in play), are not complicated people, and their dilemmas are familiar as both the stuff of classic lit (Tolstoy, Balzac, Zola) and life down the block, where you can hear the neighbors yelling from behind closed doors about money, infidelity, respect and betrayal.
But Kechiche's ultra-realist, handheld style and gritty characterizations belie the real meat of what's going on — the dense chemical combustion in action inherent in any expatriate population. France, of course, is filthy with dudgeon over its Africans and Arabs in ways that make our border-crossing arguments feel tame, and Kechiche limns the tensions so adroitly it's as if he caught them by accident.
Forget the title, which sounds like an old Pare Lorentz documentary about farming — the French title translates in spirit to "Couscous and Mullet," and the movie is nothing if not a genuflection toward the bonding agent inherent in family meals. As in reality, the family doesn't center on any one individual, but the story's axle is Slimane (Habib Boufares, who like most of the cast are non-professionals), a solemn, divorced boatbuilder currently on the fringes of his extended family's bustle.
Slimane's layoff from a job he's had for decades is just one tumbling domino; others include his hesitant relationship with his landlady (whose daughter, played by the saucy, relentless Hafsia Herzi, is his most loyal comrade), a philandering son's ruinous marriage to a Russian immigrant, the ex-wife's love/hate regard for Slimane, the vagaries of bureaucracy surrounding docking rights, Slimane's plan to open a North African restaurant using a dilapidated ship and his ex-wife's cooking, and the question of couscous, made, praised, maligned, eaten, lost, and restored.
At over two-and-a-half hours, Kechiche's film covers an enormous amount of cultural territory, but it never rushes. Rants and ordeals and meals are experienced in more or less real time, with the first late afternoon family meal lasting an extraordinary 20 minutes of laid-back, jabbering, mouth-stuffing conversation.
The movie has no shortage of life energy, honestly come by, and characters are matter-of-factly introduced midway without context or trouble — it's a real world, Kechiche is saying, and there are people in it you don't yet know. We become intimate enough that when the film boils down to prepping and staging Slimane's introductory special dinner -= meant to impress the locals and grease the bureaucratic wheels — the suspense dripped in, as we anticipate something going horribly wrong, is almost unbearable.
The final half-hour is crucifying in its anxiety and ironies, and lends what could've been in less ambitious hands a gritty ethnic street drama a sense of tragic grandeur.