Shyamalan's Latest Twist Strangles "The Last Airbender"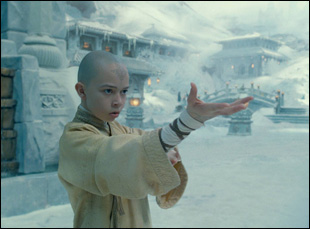 Posted by Bruce Bennett on
M. Night Shyamalan's new film "The Last Airbender" arrives in theaters groaning under the weight of several potentially handicapping burdens. First and foremost, the first season of Michael Dante DiMartino and Bryan Konietzko's "Avatar: The Last Airbender" (shorn to avoid confusion with James Cameron's otherwise unrelated film), the 2005 Nickelodeon animated series upon which the live action film is based, is simply terrific.
Smart, tough, compassionate, dynamic, visionary, and funny, the show ranks among those precious and few surprise TV discoveries like HBO's "Sopranos" and SyFy Channel's "Battlestar Galactica" reboot that can reaffirm your faith in mainstream genre storytelling.
DiMartino and Konietzko devised a mythical small-screen world in which four human kingdoms — named after the elements Water, Air, Earth and Fire — have been put out of balance by the warring ways of the Fire Nation. A hundred years of Fire Nation strife has marginalized the Water Tribes into two camps, one at either pole, all but exterminated the Air Nomads, and forced the Earth Kingdom into slavery.
Members of each race have the ability to manipulate or "bend" the elements their nations are named for, and scrolls, omens and legends foretell of the return of a benevolent, all-powerful mystic "Avatar," who can bend each substance with equal skill and unite the four nations in peaceful co-existence.
The key figures in this exotic but well-organized and well-rendered story canvas include a young waterbender named Katara (Nicola Peltz in the film), her brother Sokka (Jackson Rathbone), and Aang (Noah Ringer) the reluctant boy-who-would-be-messiah.
As the story begins, Aang arrives a hundred years late for his date with destiny when he is broken out of an iceberg prison by Katara and Sokka. Both season one of the series and Shyamalan's feature-length reduction bring the trio into conflict with the Fire Nation's ruthless leader Fire Lord Ozai (Cliff Curtis), his estranged son Prince Zuko ("Slumdog Millionaire's" Dev Patel) Zuko's benevolent and grief-stricken Uncle Iroh (Shaun Toub), the ambitious Commander Zhao (Aasif Mandvi from "The Daily Show") and a deep bench of allies, turncoats and the spiritually and corporally repressed.
Entertainment as habit-forming as the TV "Airbender" (a bona fide marketing phenomenon with both children and adult fans) is a tough act to follow, let alone repurpose. Nothing short of a miracle would be required to successfully transform 480 minutes of hang time with the gracefully evolving characters, cleverly parsed out rules of the imaginary world they inhabit and scrupulously maintained mosaic of dramatic stakes into under two hours of equally coherent and engaging.
Then there's the 3D. Though shot with conventional 2D camera technology, "The Last Airbender" received a post-production 3D conversion to cash in on its current popularity. While Shyamalan's film can be seen with or without glasses, it was screened for critics in 3D, and the smudgy, dark characteristics of an after-market retrofit added precious little to the experience of the film itself.
However, 3D's selective focus and loss of brightness are the least of "The Last Airbender's" many shortcomings. The two fatal casualties of Shyamalan's distillation of the series' 20-minute servings of fizzy, exuberant pop-mythology are the humor and clarity that helped make the show go down so sweetly. Instead of the engaging sibling wisecrack exchanges between Katara and Sokka, we get ceaselessly clunky oaths and somber exposition recaps.
Though they're portrayed by flesh and blood actors (and saddled with additional physical gravity courtesy of 3D), Katara and Sokka have lost much of their depth and nuance in translation, like the rest of the characters in the feature-length outing. This extends to Aang, whose ingratiating man-child nervous energy in the first season of the show has been replaced with a kind of action movie furrowed-brow paralysis and a performance by Ringer that offers the same scowl for every dramatic occasion.