"The Kids Are All Right," But Their Parents Might Need Some Help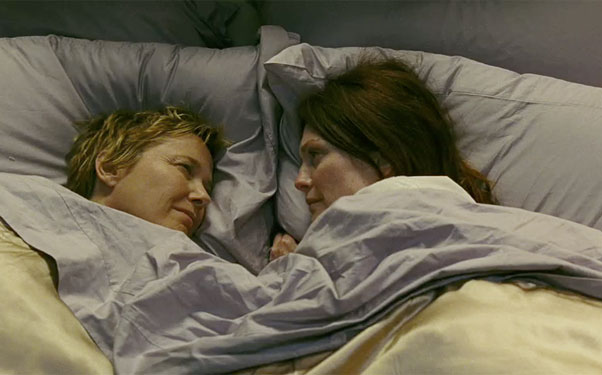 Posted by Alison Willmore on
Aside from the fact that they're lesbians, "The Kids Are All Right" assures us, Jules (Julianne Moore) and Nic (Annette Bening) are exactly like any other middle-class, middle-aged couple. Nic is a doctor, while Jules has stayed at home to raise the kids — Joni (Mia Wasikowska) and Laser (Josh Hutcherson), both in high school — and try out of a series of so far unsuccessful careers.
Sure, the passion's not what it used to be, and they've each got their resentments — Nic can be uptight and controlling, Jules flaky and needy — plus, their daughter and son are growing into sometimes difficult adults with minds of their own. Still, things are pretty good, and the four are in all ways but the obvious one a standard nuclear family, until their world's thrown off its axis by the unexpected addition of Paul (Mark Ruffalo), the previously anonymous sperm donor who is the children's biological father.
Given how hot-button a topic gay marriage remains, it's understandable that co-writer/director Lisa Cholodenko would want to place the normality of Nic and Jules' domestic life front and center: A family is a family, regardless of the parents' sexuality. But the consequence of that fact is that whatever the gender arrangement, Jules and Nic's marriage problems aren't any more interesting than, and can be just as exasperating as, those of any other bourgeois Los Angeles clan.
The two squabble about Laser's burnout best friend, whether Nic's love of wine is really just a love of drinking and if Jules is ever going to make something of her latest endeavor, an environmentally friendly landscaping business. They use words like "proactive" and, in the interest of openness, overshare with their son about their porn choices. "The Kids Are All Right" is adamantly not a "gay film," downplaying the importance of its characters' sexuality — but, perversely, it's the complexities of that sexuality that make it an intriguing, tolerable comedy.
Joni turns 18, and at her brother's urging requests contact information for their donor from the sperm bank. That his "stuff" was ever put to use comes as news to Paul, but he's game to meet with his newfound offspring. He's game for just about anything — a stylishly scruffy, almost terminally laid back bachelor, Paul has the marshmallowy vibe of someone whose life has glided along without requiring the investment of any effort. He owns a local-food restaurant, a motorcycle and a house in the hills, and is involved, in a no-strings-attached fashion, with his beautiful business partner (Yaya DaCosta, late of "America's Next Top Model").
Paul's life is so unfettered that the idea that he's fathered children, even in the most removed way, provides him with a welcome solidity and opportunity for introspection — he's in his 40s, but has been living like he's in his 20s, and it turns out he likes Joni and Laser, and they take to him.
While the kids at first keep their relationship with Paul a secret, eventually "the moms" find out, and he's grudgingly invited over to lunch, though Nic worries that Paul's presence is a sign that she and Jules have been inadequate as parents.
But there's no denying biology, and the fact is that while Nic and Jules are in so many ways traditional, they needed a little outside assistance to conceive their children, and those children are now curious about the man with whom they share half of their genetic material.
Less expected is the not-so-platonic pull that connection exerts on Jules, to whom Paul offers a much-needed gig shaping up his overgrown backyard. "I just keep seeing my kids' expressions in your face," she says. Paul flirts in part because of the thrill of the forbidden. For Jules, it's because she feels distant from and unappreciated by Nic, but also, you suspect, because it somehow feels a little less like cheating to become involved with someone who's already involved, in a small but essential way, with her family.
The "The Kids Are All Right"'s performances are great across the board, with Bening, Moore and Ruffalo expertly embodying distillations of the kinds of roles they each play best — brittle, scattered and charmingly unreliable, respectively. Ruffalo, in particular, is so genial that I felt caught short when the film turned on him.
While over at dinner, Paul toasts "to an unconventional family," but "The Kids Are All Right" turns out to not share those feelings of boho inclusiveness. For a film that's so warm, both emotionally and visually — D.P. Igor Jadue-Lillo makes Los Angeles look like a golden-hued Shangri-la of sun-dappled streets and backyard gazebos — "The Kids Are All Right" turns out to be strikingly black and white in its embrace of straightforward family values.
And so Paul is an intruder and a usurper, and this isn't actually a story of a love triangle but of a troubled marriage, and lesbians can have just as conventional a family as anyone else. It's certainly not a message I begrudge, but it does seem a little simpler than the richer, more nuanced portraits that have preceded it deserve.
"The Kids Are All Right" opens in limited release July 9th.