The Doc Days of Summer: "Jean-Michel Basquiat: The Radiant Child"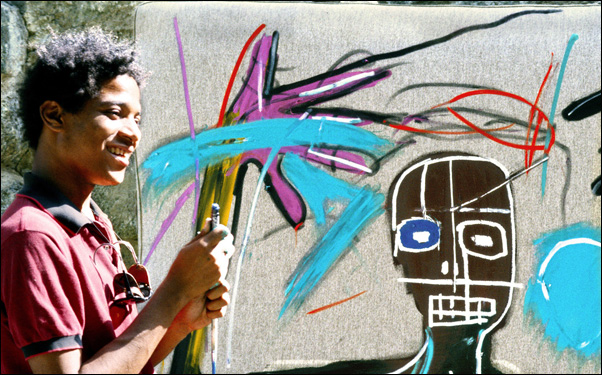 Posted by Stephen Saito on
Tamra Davis has seen the highs and lows of fame more than most. One of the most successful contemporary female filmmakers around (not to mention the wife of a Beastie Boy), she directed Chris Rock, Adam Sandler, Dave Chappelle and Britney Spears in their first leading roles. She offered Drew Barrymore her couch to crash on and Barrymore's first adult part in 1992's "Gun Crazy," a few years after the former child star was told by her agent her career was over at the age of nine, and hung around Kurt Cobain before his untimely passing.
"I've been in that position where I've seen people who have incredible talent but also who are very sensitive and have a very difficult time dealing with fame," said Davis. "And I'm always amazed at the people that I know that keep going."
Consider her latest film, "Jean-Michel Basquiat: The Radiant Child," as a way of keeping alive the memory of her friend, the wildly talented painter who died much too young at the tender age of 27, but not before she and their mutual friend Becky Johnson filmed an interview with him and other additional footage of him painting in 1984. Davis was a film school student working at the Ulrike Kantor Gallery in Los Angeles when she first met Basquiat at a gallery opening and was captivated from the moment he stepped in the room.
The beauty of Davis' portrait of Basquiat is that it's much like the man she met that night who insisted on setting up a dance area in the back of the gallery — it's brash, engaging, impetuous, audacious and ultimately a bit transcendent.
"When you hung out with Jean-Michel, that's what your world was like," said Davis. "It was just so fast and so vibrant and he was always listening to all these different kinds of music and everything moved super-fast. I felt like that his world had that collage aspect to it and even now, when I stand in front of his paintings, they're so loud. There's so much information just pouring out of them, so I really wanted the film to have that kind of boom for real explosion of ideas."
While "The Radiant Child" touches on many of the combustible elements in Basquiat's life — the drug use, the flings with '80s scenesters like Madonna, the sometimes racist art snobs that claimed his contribution to the form was "practically nil" — it is primarily a celebration of his unusual and groundbreaking neoexpressionist work that marries personal accounts from friends, including Fab 5 Freddy, ex-girlfriends like Suzanne Mallouk and gallery owners such as Larry Gagosian with one of the most extensive retrospectives of his paintings and sketches imaginable.
Amazingly, it almost never left a drawer in Davis' house. After Basquiat's death in 1988, Davis shelved the film she had, only dusting it off in 2005 when a friend from the Los Angeles' Museum of Contemporary Art mentioned they would soon be hosting an exhibit of his work. She edited the footage into a short that accompanied the exhibit, but between an offer from Arthouse Films' David Koh to produce a feature version and Davis' own desire to get away from the grind of directing narrative features on location away from her family, she decided to get serious about a full-length Basquiat doc.
"Having kids kind of gave me that opportunity to slow down a little bit and dig into projects that needed that kind of devotion and time," Davis said. "I did like this little cooking show and I also think that gave me the confidence that you don't really need a lot to make a movie, you just need a camera and a vision, so I was like okay, I think I can do this."
Once she reached out to Basquiat's father Gerard, who gave his blessing, Davis went about digging up old photographs and talking up the survivors of the decadent art world of the '80s like Julian Schnabel. E-mails from photographers would lead to discoveries about Basquiat's early period as the graffiti artist SAMO© and archival snapshots and recollections of Basquiat would reveal the artist to be a junior member of the Brooklyn Museum at six and recount his traumatic car crash at seven.
"Each person I'd talk to was like a new map," said Davis. "Their memory of Jean-Michel was always so vivid still in their heads that they could even describe like details down to like the color of a car or the street corner they were on. He was such a character that their memories were still so strong."
Although Davis was reluctant to include herself in the film, it's her occasional interjections about rescuing her friend from the ever-ringing doorbell when he lived on Crosby Street in New York or sitting atop Mulholland Drive and eating Chinese food in her car that bring a humanity to the picture amidst the experts who rightly praise Basquiat as a visionary and extol his skills as a quick draw artist given to easy inspiration (Warhol envied his speed).
Davis hopes the doc will inspire other young artists to keep pursuing their talent, even if like Basquiat they are rejected at first, and she herself has been reliving her younger days as an independent filmmaker on the festival circuit, excited to travel to Deauville after stops at Sundance and SXSW. The post-screening parties have even brought out a few old friends.
"Chris Rock came [to one of the screenings] and afterwards, we just sat around having the best time saying like, "Chris, we're still working. Can you believe it?"
Thankfully, Davis is preserving the work of others as well.
"Jean-Michel Basquiat: The Radiant Child" is now playing in New York before opening in Denver and Seattle on August 6th and Los Angeles, Dallas and Houston on August 20th.